Sponsored Content from WFG: Are You Taking Full Advantage of the Home Equity Lending Boom?
Halfway through Q1 2023, 30-year fixed mortgage interest rates remain at a 20-year high. Averaging 6.72 percent as of February 15th — up from 6.36 percent just one month prior[1] — both purchase and refinance originations continue to languish, tumbling a whopping 61.9 percent year-over-year from January 2022 to 2023, according to Black Knight's Originations Mortgage Monitor[2].
By contrast, and fueled by record tappable equity, home equity lending is experiencing a major resurgence. According to TransUnion's 2023 Consumer Credit Forecast, an estimated 2.7 million home equity lines of credit and home equity loans were originated in 2022, up more than 40 percent year-over-year from 1.9 million, and TransUnion expects originations to increase an additional 24 percent in 2023.[3]
To avoid missing the wave, mortgage lenders are aggressively ramping up their home equity lending capabilities and actively seeking out solutions to position their organizations for success.
How service providers can help you capture more home equity business
Many service providers claim to be experts in home equity lending, but few actually possess the proven performance record, financial stability, technology resources, breadth and depth of services, and market expertise to deliver on that promise.
Since the company's founding in 2010, WFG Lender Services has continuously provided lenders nationwide with innovative home equity solutions, closing more than half a million home equity loans in that same timeframe. The company's home equity lending clients include top-ranking national lenders, community banks, and credit unions.
WFG Lender Services Senior Vice President Dan Bailey, who has worked in the home equity lending space for more than 20 years, provides the following insight about this vital market segment.
"When I started in this business, we were closing more than 15,000 home equity transactions a month. These transactions are incredibly time-sensitive, with borrowers looking to access money quickly to fund home repairs, improvements, and other immediate expenses," Bailey said. "The revenue profile for home equity transactions is very different as well, with lenders picking up most or all of the origination costs. For this reason, it's imperative for service providers to deliver accurate, high-quality products, and to do it quickly and at a price point that makes sense for lenders."
An extremely versatile service provider, WFG has been providing end-to-end home equity lending solutions since day one, and, because needs can vary greatly in this space, they have made it a priority to adapt and customize offerings and programs to accommodate the unique needs of each of their lender clients.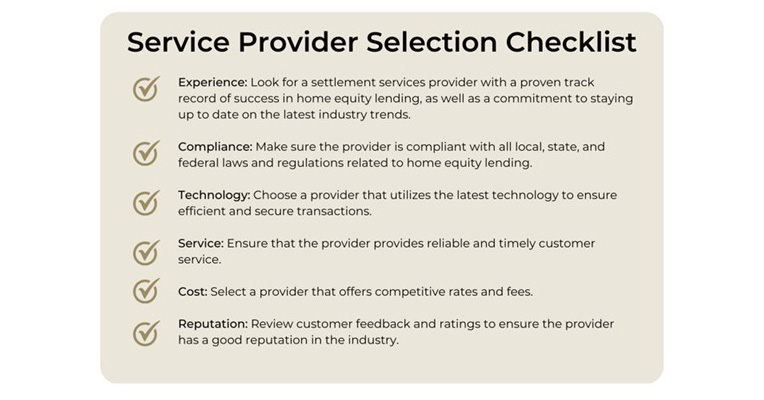 "We know no two lenders are alike, and we're dedicated to supporting each of our client's initiatives and strategies and providing them with a competitive advantage," Bailey said.
In addition to providing a consultative approach, WFG offers all of the services and information lenders need to originate home equity loans, from origination through closing, post-closing, and recording. Services are available via one-touch ordering through the company's proprietary Valutrust® technology platform, enabling WFG to deliver information in record time so its lender clients can make rapid, well-informed decisions. In addition to delivering top-quality products, WFG's accuracy rate is consistently at 98 percent and above.
"We literally do it all," Bailey said. "We can provide our home equity lending clients with immediate access to everything they need, from pricing data to order status information, standard title, informational reports and warranted products; legal and vesting reports, third party data sources and verification services, property condition reports, AVMs and AVM cascades; flood hazard status information, and more. All of our products and services are available through our proprietary Valutrust technology platform and integrated with the leading LOS systems. We can also provide this data via data exchange, XML file, or compile and deliver it in a customized report designed to the lender's unique specifications."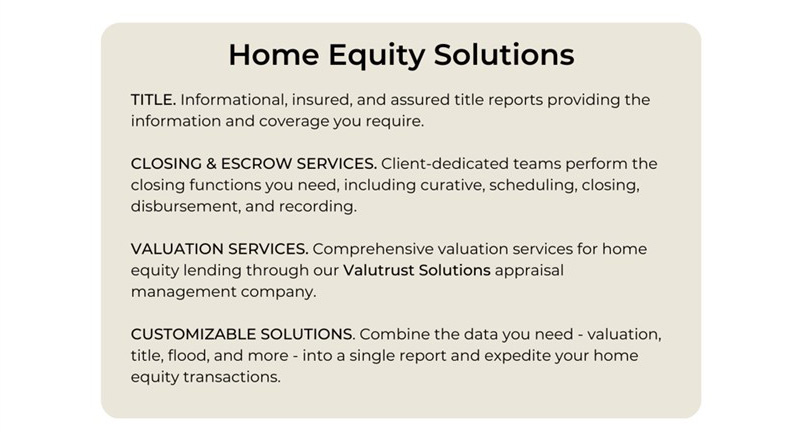 Later this month, WFG will officially launch its DecisionPoint® Rapid Legal and Vesting solution. Offered through the company's DecisionPoint Instant Title Solution suite, it provides lenders with fully automated legal and vesting reports – including a recordable legal description from a property's last full-value transfer and vesting information from the most recent deed – in under 2 hours. Delivered through the Valutrust platform, WFG's Rapid Legal and Vesting offering is available to lenders of all sizes and features expedited account setup and standardized data delivery, enabling lenders to sign up and obtain needed property-related information quickly and efficiently.
In addition to providing a full range of home equity lending solutions, WFG Lender Services also provides an exceptional experience for consumers. WFG participates in the Net Promoter® Score (NPS®) program, collecting consumer review data for all transactions. Since the program's inception several years ago, WFG's Lender Services division has consistently scored 70 or above on the NPS rating scale, which NPS creator Bain & Company classifies as "world-class." WFG also publishes its monthly and annual scores publicly and shares review data directly with its lender clients so they can benefit from it as well.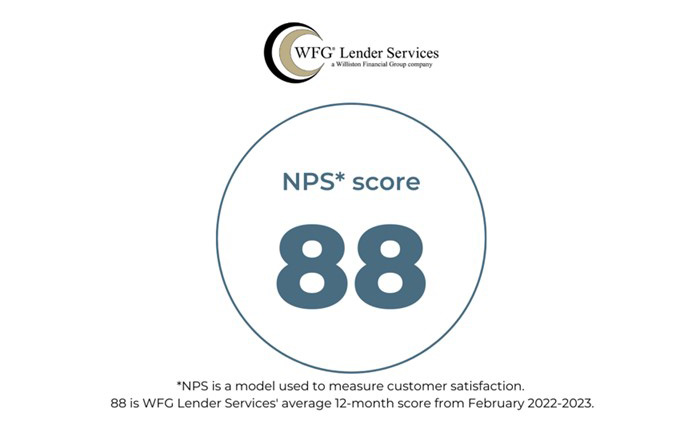 Financial strength and stability are also important attributes in a service provider. Title insurance underwriter and WFG Lender Services' affiliate company WFG National Title Insurance Company takes both very seriously. Not only does WFG NTIC have an A' (A Prime) Financial Stability Rating® from Demotech, LLC, the company has 158 months of claims reserve coverage, no institutional debt, and is SOC2 Certified. WFG NTIC is also committed to investing in and delivering innovative solutions that help its lender clients reduce costs, shorten origination times, and, most importantly, consistently deliver a "world-class" service experience for their customers.
"WFG National Title is a responsible, experienced, truly national, and, above all, customer-focused organization that is in it for the long haul," Bailey said. "Our business model is adaptable and tech-forward, and we're dedicated to partnering with our customers to provide a faster, more efficient process for all those involved in the real estate transaction. WFG is also well-positioned to weather fluctuating market trends."
"We know there are always better ways to do things and we work together with our lender partners to create and customize solutions that enable them to achieve peak operational efficiency while providing an exceptional experience for their customers. If they're successful, we're successful. It's a win-win," Bailey said.
For more information on WFG Lender Services' Home Equity Lending Solutions, watch Dan Bailey's MBA NOW video here, or visit https://wfgls.com/products-and-services/home-equity-services/
Video link: https://bit.ly/WFG-MBANOW
---
[1] https://www.bankrate.com/mortgages/todays-rates/mortgage-rates-for-wednesday-february-15-2023/
[2] https://www.blackknightinc.com/data-reports/?report-type=originations-market-monitor&
[3] https://www.transunion.com/blog/consumers-are-increasingly-optimistic-despite-a-potentially-bump
(Sponsored content includes material submitted independently of the Mortgage Bankers Association and MBA NewsLink and does not connote an MBA endorsement of a specific company, product or service. For more information about sponsored content opportunities, contact Bill Farmakis at bill@jlfarmakis.com or 203/834-8832.)