Digitally Native Brands Look to Brick and Mortar
Placer.ai, Los Altos, Calif., said a robust brick-and-mortar operation is critical for digitally native brands looking to build brand awareness, streamline distribution and drive consumer engagement.
"[Digitally native brands] have a lot to gain from growing their offline footprint, but perhaps the most straightforward benefit is simply more visits," Placer.ai said in Digitally Native and Direct-to-Consumer Brands Take to the Streets. "And considering the increasing difficulty and cost of acquiring new customers online–especially for a digitally native brand that enjoys high brand awareness in the digital sphere–physical stores are an efficient way to grow a customer base and maximize return on investment."
The report looked at footwear company Allbirds, whose growing physical footprint and wholesale partnerships show how brick-and-mortar expansion can be a path to efficient customer acquisition even for a well-established digitally native brand.
"Allbirds…has maintained a relatively stable level of online visits for most of the year, except for an expected seasonal boost to online traffic in late November through mid-December," the report said. "But thanks to the brand's considerable offline expansion, Allbirds has been able to consistently grow its traffic even as visits to its online channel remained steady." Allbirds reported a 53% year-over-three-year increase in physical store sales during the third quarter and the brand nearly quadrupled its weekly foot traffic between January 1 and mid-December 2022.
"Through its strategic brick-and-mortar expansion, Allbirds' succeeded in growing its offline traffic without cannibalizing visits to its existing store," Placer.ai said.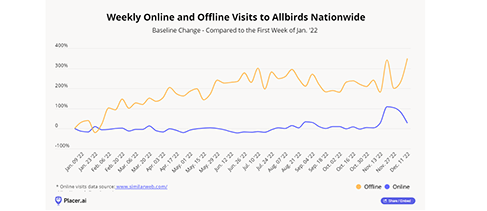 Other retailers have seen similar results. NPR reported that bookseller Barnes & Noble plans to open nearly 30 new stores this year. "In a few [sites], Barnes & Noble is even taking over former Amazon bookshops," NPR said.
e-commerce allows customers to shop from the comfort of their homes, but it cannot replace browsing physical shelves and racks, trying on products and feeling fabrics and materials first-hand, Placer.ai said. Digitally native brands that use their physical stores to engage customers can create a lasting impression that promotes growth both online and offline.
"Online retail is not rendering physical stores obsolete; instead, brick-and-mortar venues still have a critical role to play in building out a modern retail business," the report said. "And when it comes to customer acquisition, brand building and audience engagement, brick-and-mortar stores still hold significant advantages over a digital-only presence. As e-commerce growth slows and online and physical retail move toward an equilibrium, digitally native brands as well as direct-to-consumer companies are likely to ramp up investment in store space and continue reaping the multiple benefits of a strategically brick-and-mortar fleet."