MBA Education Path to Diversity Scholar Profile: Kirsten Agard, CMB, AMP
(One in a continuing series of profiles of participants in the MBA Education Path to Diversity (P2D) Scholarship Program, which enables employees from diverse backgrounds to advance their professional growth and career development.)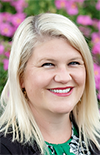 My name is Kirsten Agard, CMB, AMP, I live in Tigard, Oregon, and I have been in the mortgage industry for 12 years. Being where I am today, I may not have the background that many would expect; I graduated high school with a baby in tow, my dad barely finished 7th grade with a really bad case of dyslexia, and my mom Is a high school graduate, and has worked retail my entire life. I am a first-generation college graduate, and a Ford Scholar, with two BS Degrees from the University of Oregon in Business Administration with an emphasis in Marketing and Entrepreneurship; and a BS in Psychology.
I recently adopted my three nephews from my sister–so now have a 3-year old, 5 year-old and 15 year-old, and my 13 year-old daughter. I also take care of my 88-year-old grandmother, who has lived with me since I was 18. I have gone from a Private Banking Processor, to managing Closing and Post-Closing and helping build a highly successful fulfillment center. I have been at Umpqua Bank for 10 years and am currently working on the Bank Operations Team as a Project Consultant.
NEWSLINK: How did you learn about the MBA Path to Diversity Program?
KIRSTEN AGARD: I heard about the program on the MBA's website, when I signed up for my first School of Mortgage Banking I class. I read the description of what they were looking for and knew that I fit the bill, and that this scholarship would provide me with easier access to the education I was trying to attain.
NEWSLINK: What inspired you to become more involved? Did a co-worker/supervisor/mentor encourage your participation?
AGARD: I was inspired to become more involved once I learned about the programs MBA has, because MBA isn't as prevalent in Oregon as it is in many other places. I wanted to learn more so I could continue to elevate myself, my career, and my state's MBA participation.
NEWSLINK: Did you find the application process to be user-friendly?
AGARD: The application process was very straightforward and easy to navigate; it took me about an hour in total to pull everything together.
NEWSLINK: How has the Path to Diversity scholarship benefited you, personally and professionally? What have you been able to bring back to your company as a result of the Path to Diversity program?
AGARD: The Path to Diversity scholarship benefited me by helping me become the second woman in Oregon to receive my CMB. I used the scholarship to help pay for my AMP, which was my gateway to the CMB program. The scholarship enabled me to join the program, as my job at the time didn't have a budget for this type of professional development. I took back a much wider understanding of the overall Mortgage process, and now am one of the lucky few, who can say I now have a network of people I consider life-long friends in all areas of the Industry, and country.
NEWSLNK: What would you say to someone considering applying for a Path to Diversity scholarship?
AGARD: As Nike Says: Just Do It!
***
About the MBA Path to Diversity Scholarship Program
The Path to Diversity Scholarship Program recognizes existing industry professionals who are seeking to advance their careers through continuing education. Recipients receive a voucher to cover course registration fees, up to a maximum of $2,000, for popular MBA Education courses and designation programs. This education opportunity enables employees from diverse backgrounds to advance their professional growth and career development.
MBA recognizes that a strong, responsible and sustainable real estate finance industry requires a workforce that is reflective of our society at large.
For more information about the Path to Diversity Scholarship Program, click here.