Positive Outlook for Single-Family Rental Sector
The single-family rental sector will likely face cyclical headwinds this year, but the long-term outlook remains firmly positive, reported Arbor Realty Trust, Uniondale, N.Y.
This product type could become the new American starter home, the Arbor Single-Family Rental Investment Trends report said, noting homebuilders are experiencing high cancellation rates on for-sale houses and have had trouble offloading inventory, in part due to higher interest rates.
"In some cases, homebuilders are even offering substantial mortgage rate buydowns to save deals," the report said. "As a result, SFR operators are positioned as an alternative type of buyer for homebuilders with oversupplied pipelines. [In addition,] the sustainability of work-from-home and hybrid work will continue to support high levels of rental housing demand outside metro urban cores."
The Wall Street Journal reported this week that even high-earning families–those making $150,000 or more annually–are more likely to rent their homes than they used to. Build-to-Rent houses account for a record-high 6.3% of new single-family construction starts in the past year, Arbor said.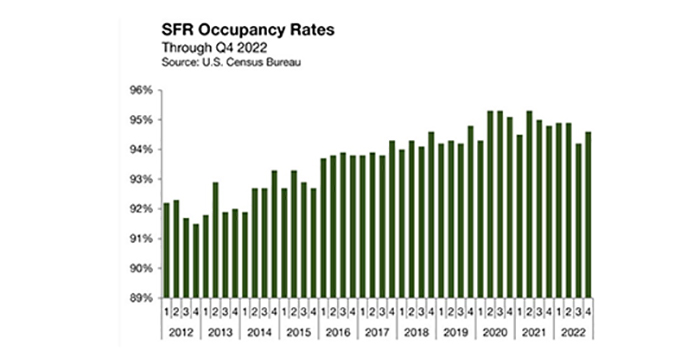 Occupancy rates across all SFR properties averaged 94.6% in the fourth quarter, improving 40 basis points from the previous quarter, Census Bureau figures indicate.
Arbor said SFR cap rates ticked upward in late 2022, moving up another 8 basis points in the fourth quarter to 5.6% following a 24-basis-point increase during the previous quarter. "[SFR] cap rates compressed during the pandemic and its aftermath as single-family home prices appreciated at record-setting rates," the report said. "As home prices inflected, the impact on cap rates is starting to move in reverse."
Debt yields, which measure credit risk, rose by 11 basis points during the fourth quarter to 9.5%, Arbor reported. "This fourth consecutive quarterly increase signals that lenders have continued to exercise caution as the housing market works through a pricing correction," the report said.