Jobs Reports: Private-Sector Employment Up 242,000; Job Openings Under 11 Million
In the first two of four major jobs reports this week, ADP, Roseland, N.J., said February private-sector employment increased by 242,000, while the Bureau of Labor Statistics reported job openings fell under 11 million.
The ADP National Employment Report said private-sector employment increased by 242,000 jobs in February, while annual pay rose by 7.2 percent year-over-year.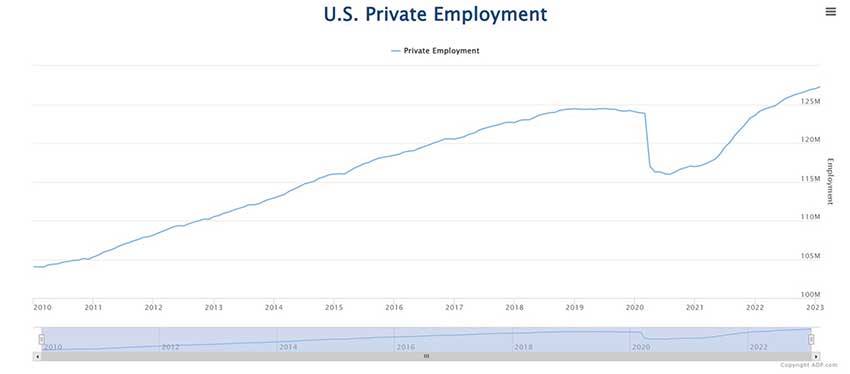 The report said by industry sector, goods-producing employers added 52,000 jobs, while service-providing employers added 190,000 jobs. By company size, small employers (1-49 employees) lost 61,000 jobs; medium employers (50-499 employees) added 148,000 jobs and large employers added 160,000 jobs.
"There is a tradeoff in the labor market right now," said Nela Richardson, chief economist with ADP. "We're seeing robust hiring, which is good for the economy and workers, but pay growth is still quite elevated. The modest slowdown in pay increases, on its own, is unlikely to drive down inflation rapidly in the near term."
Meanwhile, BLS said its monthly Job Openings and Labor Turnover Survey, or JOLTS, saw job openings fall to 10.8 million in January, down by 410,000 from 11.2 million in December.
The report found increases in hiring—and layoffs. BLS said hiring increased to 6.37 million from 6.25 million, while layoffs rose to 1.72 million from 1.48 million. Job quits, meanwhile, fell to 3.89 million from 4.09 million.
BLS reported 1.9 available jobs for every current job-seeker.
For 2022, BLS reported annual average job openings level rose to 11.2 million, an increase of 1.2 million from 2021. The annual average job openings rate rose to 6.8 percent in 2022, from 6.4 percent in 2021.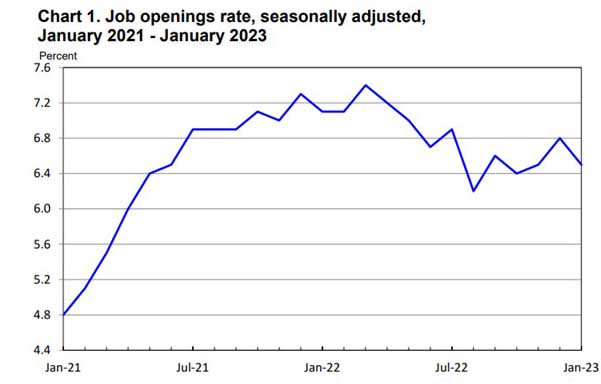 BLS reported 77.2 million hires in 2022, an increase of 1.2 million from 2021. Total separations increased by 3.2 million in 2022 to 72.3 million. Accounting for 70.0 percent of total separations, quits numbered 50.6 million in 2022, the highest annual level in the survey's history. Layoffs and discharges increased by 461,000 in 2022 to 17.6 million and accounted for 24.3 percent of total separations. Other separations decreased by 138,000 in 2022 to 4.1 million and accounted for 5.7 percent of total separations.
The parade of jobs reports continues Thursday when the Labor Department releases its Weekly Initial Claims for unemployment insurance. On Friday, BLS releases its monthly Employment Situation report.
Mike Fratantoni, Chief Economist with the Mortgage Bankers Association, will provide commentary and analysis on the Friday jobs report in the Monday, Mar. 13 edition of MBA NewsLink.