MBA Premier Member Profile: Asurity
(One in a continuing series of profiles of Premier Members of the Mortgage Bankers Association.)
Asurity, founded in 2015, combines RegTech SaaS with industry expertise to help automate compliance and product innovation in mortgage:

–RiskExec: state-of-the-art analytics, reporting and submission tools for HMDA, fair lending / fair servicing, and redlining.
–RegCheck: loan origination and QA compliance testing and certification with dashboard and API
–Propel: Fast, configurable document generation platform for mortgage origination and servicing.
Key Personnel
Andrew L. Sandler, CEO & Founder
Dr. Anurag Agarwal, President – RiskExec
Grace Brasington, Senior Managing Director
Lynn Woosley, Managing Director
MBA NEWSLINK: What are some key trends your company is tracking?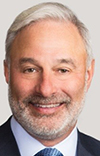 ANDREW SANDLER: The release of section 1071 rules, applying HMDA-style requirements to small business banking. Increased regulatory attention on Redlining. FHA indications that mortgage loan services should collect demographic data on servicing customers. Loan process digitization.
NEWSLINK: Why did your company join the Mortgage Bankers Association?
SANDLER: MBA supports and advocates for our industry's interests. It convenes industry leaders for important conversations about moving the industry forward. It gives us access to thought leadership and critical information needed to support the industry.
NEWSLINK: How has being an MBA Premier Member benefited your company?
SANDLER: Benefits for Asurity have included more brand exposure, further opportunities to participate on MBA policy committees and executive level interaction in part from invitations to the Chairman's receptions during top conferences.
(MBA Premier Member Profiles are provided by the Mortgage Bankers Association and MBA NewsLink as a service to MBA Premier Members. Publication does not constitute an endorsement of a particular company, product or service. For more information about the MBA Premier Member program, contact Brad Padratzik, MBA Director of Associate Membership, at bpadratzik@mba.org or call 202/557-2779.)