Homeownership Gender Gap Widening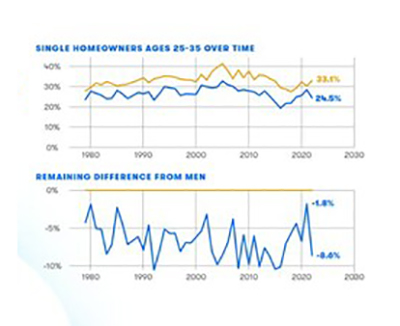 Women have returned to the workforce in near pre-pandemic numbers, but homeownership remains elusive for those who are single, reported Zillow, Seattle.
Single men have long been more likely than single women to own a home, but that gap narrowed sharply in recent years and nearly closed in 2021. But 2022 wiped out that progress. "The first year of the pandemic saw an outsize share of women leave their jobs to take on caregiving responsibilities as child-care and eldercare options were in flux," Zillow said in a new analysis. Women also continue to earn significantly less than men on average, so young single women have fewer options when it comes to affordable home listings than young single men, the report noted.
"Single women had made great strides in narrowing the homeownership gap, but the pandemic reminded us that progress is not always linear," said Skylar Olsen, Chief Economist withZillow. "Despite women showing remarkable resilience in returning to the workforce, single women's homeownership rate took a heavy hit in 2022. With rising and volatile mortgage rates furthering affordability challenges, the road to affordable homeownership remains an uphill battle, and it may take creative solutions or even doubling up in a home to achieve that dream."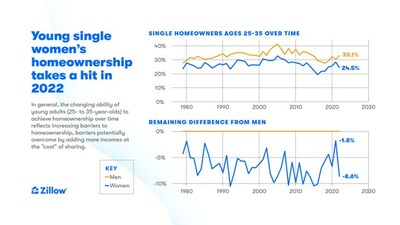 After growing to 28.6% by 2021, the homeownership rate for single women dropped to 24.5% last year, wiping out almost half the gains made since 2016, when single women's homeownership reached a record-low 19.4%, Zillow reported. At the same time, the homeownership rate for single men increased 2.7 percentage points in 2022 to 33.1%.
Single women looking to buy a home in Pittsburgh, St. Louis or Detroit will find the highest share of affordable listings, the report said. Single women in Atlanta, Baltimore, Washington, D.C. and Raleigh, N.C. are most able to compete with single men in the for-sale market; single women in those metros, on average, can afford at least 2% of all active listings and at least 90% of the listings single men can afford.
On the other hand, Cincinnati, Kansas City, Oklahoma City, Minneapolis, Jacksonville and New Orleans see the largest gender-based disparity in housing affordability, with single women able to afford fewer than 70% of the homes that single men can afford.