CBRE: Cap Rate Expansion Likely to Continue; May Peak This Year
CBRE, Dallas, said capitalization rate expansion will likely continue in the short term for most commercial real estate asset types, but could peak later this year.
Cap rates should decrease in 2024, as many analysts expect the Federal Reserve will end its rate-hiking cycle CBRE said in its U.S. Cap Rate Survey.
CBRE found all property types reported cap rates increases in the second half of 2022. "Despite strong real estate fundamentals, higher borrowing costs and uncertainty around monetary policy are forcing cap rates upward," the report said. "In some instances, industrial and multifamily cap rates are below current borrowing costs."
Cap rate estimates are up 60 basis points on average from CBRE's previous survey, reflecting substantial monetary tightening by the Federal Reserve and wider commercial mortgage spreads during the second half of 2022. "An overwhelming majority of respondents across sectors are expecting cap rates to increase another 25 basis points over the next six months, with expectations for the greatest upward shift in lower quality office and retail spaces," the report said.
With interest rates expected to peak later this year, the end of cap rate expansion may be in sight for most asset types, the report noted.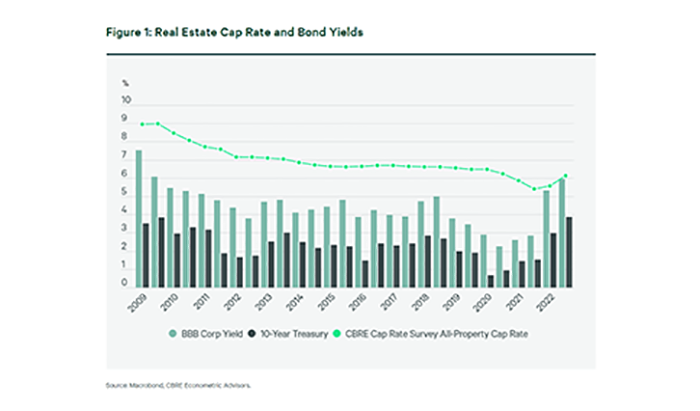 "Rapid increases in interest rates over the past year have meant that lower pricing on acquisitions is necessary to achieve healthy returns," said Tom Edwards, Global President of Valuation & Advisory Services for CBRE. "This is before factoring in the risk premium associated with market uncertainty that keeps many buyers on the sidelines. "We believe that cap rates will peak later this year and that price discovery over the next three to six months will narrow the dislocation between buyers and sellers and lead to higher transaction volume."
The survey found lenders are increasingly cautious and respondents expect average loan-to-value ratios to fall over the next six months, especially for the office sector. Respondents said they expect the industrial and multifamily sectors to lead commercial real estate performance over the next year, followed by hotels and retail.
"Tighter lending conditions and more distress–particularly for office–are expected to characterize the market over the next 12 to 24 months," said Rachel Vinson, U.S. President of Debt & Structured Finance for CBRE. "Borrowers will wait to transact if their capital structures will allow. Properties with declining values and maturing debt may be forced to sell or default giving rise to additional distress in the market."