MBA Comments on HUD COVID-Related Loss Mitigation Report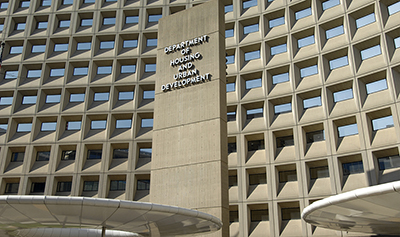 (HUD headquarters, Washington, D.C.)
The HUD Office of the Inspector General issued two audit reports Thursday examining the loss mitigation options that loan servicers provided to borrowers with FHA-insured loans after their COVID-19 forbearance ended.
The first report broadly examined whether servicers of FHA loans provided proper loss mitigation assistance to homeowners exiting COVID-19 forbearance; the second report examined a specific servicer's compliance with those requirements.
Mortgage Bankers Association President and CEO Bob Broeksmit, CMB, said the broad report confirms what we already know–the pandemic presented unprecedented challenges to homeowners, servicers and federal agencies that administer loan guarantee programs.
"Since the pandemic began in March 2020, mortgage servicers provided payment relief to nearly 8 million borrowers via forbearance," Broeksmit said. "Today, only approximately 255,000 borrowers remain in forbearance, and delinquency rates are near historic lows."
Broeksmit noted the OIG's report details the difficulties HUD faced in effectively communicating extensive and rapidly changing COVID-related loss mitigation program requirements. "These difficulties are understandable in light of the challenges faced by both HUD and servicers in an unprecedented and rapidly changing environment," he said. "Those difficulties increased the challenges that servicers faced in implementing these new and evolving programs for a never-before-seen volume of borrowers."
HUD Inspector General Rae Oliver Davis noted HUD's efforts to address the crisis necessarily evolved over time and mortgage servicers struggled to adapt to those changes. "These reports identify the challenges and provide a roadmap to assist HUD in avoiding similar difficulties in the future," she said.
"When servicers provided borrowers with proper loss mitigation assistance, it helped borrowers make their mortgage payments," HUD said in a statement. "However, when servicers failed to provide borrowers with proper loss mitigation assistance, HUD OIG found that this sometimes made the borrower's financial situation worse."
HUD noted the COVID-19 pandemic created challenges for mortgage servicing, prompting the FHA to make rapid changes to its requirements and servicers to rapidly adapt their operations and processes to keep pace–placing significant stress on servicer's loss mitigation activities. HUD OIG reviewed a statistical sample of FHA-insured loans totaling $41 billion in unpaid principal balance and found that servicers did not provide proper loss mitigation after the COVID-19 forbearance ended to 67% of borrowers. In addition, the audit found that servicers: (1) failed to provide the borrowers with the loss mitigation option for which they were eligible, (2) failed to properly calculate the borrowers' loss mitigation options or (3) provided loss mitigation options that did not result in the borrowers' loans becoming current.
HUD OIG made several recommendations in both reports to HUD, which include among other things that the Deputy Assistant Secretary for Single-Family Housing work with mortgage servicers to determine reasons for noncompliance and develop mitigation plans. HUD OIG also recommended HUD review loans that did not receive appropriate loss mitigation options to ensure that the servicers provide a remedy to impacted borrowers and where appropriate, take administrative action.
"A number of the technical faults that the report identifies were made by servicers in the spirit of helping COVID-affected borrowers exit forbearance and remain in their homes in the fastest, most efficient way possible," Broeksmit said. "Others were the unfortunate outcome of confusing or conflicting program requirements and the inherent difficulties of quickly scaling such a massive borrower assistance effort. But make no mistake, by focusing on delivering positive outcomes for homeowners, servicers' implementation of COVID-19 relief is a major success story."