STR, TE Lift Hotel Forecast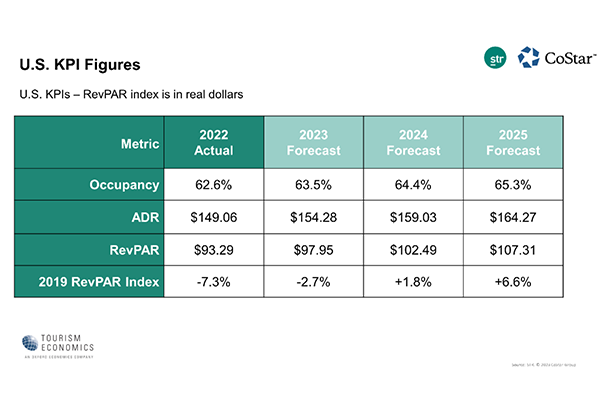 (Courtesy STR, Tourism Economics)
STR, Hendersonville, Tenn., and Tourism Economics, Wayne, Pa., upgraded their hotel sector forecast for the rest of 2023.
But while top-line performance advances, growing operating expenses will likely limit profit growth over the remainder of the year, the forecast noted.
The firms lifted their average daily rate and revenue per available room projections 1.5% and 1.3%, respectively. Occupancy rates could dip up to 0.2%, the report said.
For 2024, STR and TE forecast a 1.4% downgrade in occupancy coupled with a 0.7% lift in ADR, which would yield a 0.6% RevPAR downgrade.
RevPAR, the key top-line performance metric, fully recovered in 2022 on a nominal basis but will not achieve that status when adjusted for inflation until 2025, STR and TE said. Gross operating profit per available room also recovered in 2022 with limited growth forecast for 2023 and more sizable gains expected in 2024. The GOPPAR projection for this year was lowered 2.7% from the previous forecast and downgraded 4.0% for 2024.
"Despite the upgrade, economic uncertainty underlines our forecast for the remainder of this year and into 2024," STR President Amanda Hite said. "We have always forecasted with a mild recession in mind, but we're now looking a later timeline and the added concerns around the banking system."
Hite said hotel demand improved 4.3% during the first four months of the year with most of the gain concentrated in the upper-upscale and upscale chains. "These two chains, which are the segments most associated with business travel and groups, are expected to lead industry demand growth for the remainder of 2023," she said. "With everything considered, the industry has plenty of reasons to remain optimistic about top-line performance. At the same time, growing operating expenses, especially labor, continue to pressure the bottom line. Profit margins, while strong, are projected to be lower this year than last."
Aran Ryan, director of industry studies at Tourism Economics, predicted recent stress in the banking system and tighter lending standards will add to inflation pressures and produce a relatively mild recession in the second half of 2023. "A halting economy will limit gains in lodging demand, though we continue to anticipate returning group and business activity, international travel and consumers' desire for travel will sustain modest growth in room nights sold," he said.