Former MBA Chair Regina Lowrie, CMB, Passes Away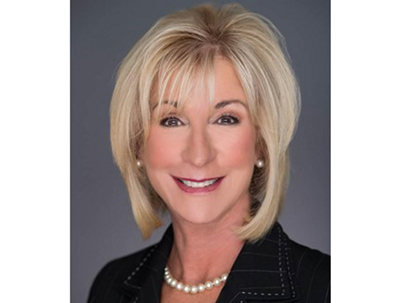 Regina Lowrie, CMB.
Regina Lowrie, CMB, who made history in 2005 as the first female elected Chair of the Mortgage Bankers Association, passed away suddenly on Jan. 1. She was 68.
Ms. Lowrie had nearly 40 years of experience in the real estate finance industry. She was President and CEO of Dytrix, Blue Bell, Pa., a fintech company that enables secure financial transactions for institutions. She was also Founder, President and CEO of RML Investments Inc, a specialized advisory firm focused on helping mortgage banking clients analyze various enterprise risks, including compliance risks associated with service providers.
"MBA's staff and members are saddened by Regina's passing," said MBA President & CEO Robert Broeksmit, CMB. "She was a trailblazing leader who was the first woman to serve as MBA's chairman. Her tenacity, resilience, and fierce advocacy for our industry will long be remembered by all those fortunate enough to have interacted with her. We offer our condolences to her friends, colleagues, and family."
"Regina was not only a dear friend for many years but was an integral part of our industry, both on national and state level," said E. Robert Levy, Executive Director and Counsel with the Mortgage Bankers Association of New Jersey. "Regina was a dedicated and loyal individual who was always straightforward in her views and always ready to be there for her friends and colleagues at any time if she could be helpful. To say that she will be greatly missed is an understatement."
Ms. Lowrie grew up in the Philadelphia area and attended the University of North Carolina's Kenan-Flager Business School. Early in her career, she held executive and senior management positions with Sears, Commonwealth Federal Savings and Loan and subsequently Comnet Mortgage Services.
From 1994 to 2006, Ms. Lowrie was President and CEO of Gateway Funding Diversified Mortgage Services, Horsham, Pa. At the time Gateway Funding was sold in 2006, Gateway Funding had grown to 800 employees with 57 branch offices and had a loan production of $3.5 billion with revenues of more $100 million. From 2007 to 2013, Ms. Lowrie was President of Vision Mortgage Capital, a division of Continental Bank, and Senior Vice President of Continental Bank. She was responsible for creating, developing, directing and managing all aspects of the mortgage division, including strategic planning, enterprise risk management, quality control, compliance, secondary marketing and sales operations and budgeting process.
Ms. Lowrie became actively involved in both the Mortgage Bankers Association and the MBA of Greater Philadelphia. In 1995, she became the first woman to lead the MBA of Greater Philadelphia; she also served as a volunteer on numerous MBA committees and on the MBA Residential Board of Governors (RESBOG) and the MBA Board of Directors.
In 2003, Ms. Lowrie accepted her nomination to serve on the MBA leadership ladder, serving first as MBA Vice Chair, then MBA Chair-Elect. In October 2005 at the MBA Annual Convention & Expo in Orlando, Fla. Ms. Lowrie became the first female to serve as MBA Chair, succeeding Michael F. Petrie, CMB.
During her tenure as MBA Chair, Ms. Lowrie testified several times before Congress on public policy, including GSE Reform, and provided expert witness for the financial services industry. She was featured in major daily newspapers and industry trade publications.
Ms. Lowrie continued to serve MBA in volunteer capacities after becoming Past Chair, including as MBA's New Jersey & Pennsylvania Ambassador. She was a strong supporter of mPower, MBA Promoting Opportunities for Women to Extend their Reach, and was a frequent participant at mPower events. She earned her Certified Mortgage Banker (CMB) designation from MBA in 2006.
Ms. Lowrie was the recipient of numerous awards, including the Philadelphia Business Journal and National Association of Women Business Owners' 2006 Women of Distinction Award. Also in 2006, she was recognized by the Credit Counseling Community Services of Delaware Valley as an outstanding member of the Philadelphia community, receiving the "A Credit to Greater Philadelphia Community Award." In 2013, she was a Mortgage Banking Leading Industry Women Honoree, a class of 20 standout industry women whose accomplishments have been significant in the real estate finance business leadership over the years. And in 2014, she received the American Association for Women in Community Colleges Trustee of the Year Award and the Montgomery County Community College (Pa.) Leading Woman Award and recognized for her philanthropic endeavors.
Ms. Lowrie also served as an advisory board member and board of directors member for a diverse list of public and private entities, including the Fannie Mae National Advisory Council, the Radian Guaranty Advisory Board, the Board of Directors of Cherry Hill Mortgage Investment Corp., and the Board of Trustees of Gwynedd-Mercy University.
Ms. Lowrie is survived by her daughter, Crista, and her son Robert; and several grandchildren. Funeral arrangements are pending.