Dealmaker: Berkadia Secures $20M for Iowa Multifamily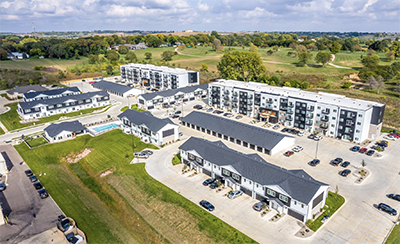 (District 42 Apartments, Sioux City, Iowa)

Berkadia secured $20 million for District 42 Apartments, a 215-unit mid-rise multifamily property in Sioux City, Iowa.
Nick Nicholson, Managing Director with Berkadia HUD/FHA arranged the permanent refinancing for borrower Talon Development, Sioux Falls, S.D. The deal closed on December 8.
Nicholson arranged the 35-year loan through the FHA/HUD Section 223(f) program. He noted Berkadia persuaded HUD to increase the loan amount at the eleventh hour to take advantage of increasing rents at the property. "Like every HUD loan, this loan can easily be modified when interest rates decrease to take advantage of the next interest rate cycle," he said.
Located at 5800 Sunnybrook Plaza, District 42 Apartments has studio, one-, two- and three-bedroom floorplans with in-unit washers and dryers. Community amenities include a fitness center, a swimming pool, a dog park and reservable guest suites. Residents have convenient access to nearby Whispering Creek Golf Club, Western Iowa Tech Community College and the shops and restaurants along U.S. Highway 75.