Dealmaker: Sonnenblick-Eichner Arranges $27M for Two California Hotels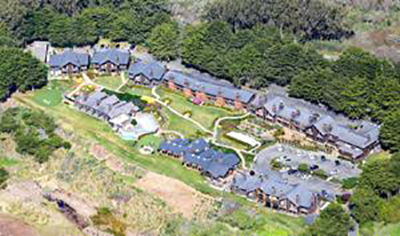 (The Lodge at Bodega Bay, Bodega Bay, Calif. Photo credit: Woodside Hotel Group)
Sonnenblick-Eichner Co., Beverly Hills. Calif., arranged $26.7 million in non-cross collateralized financing for two northern California properties: Lafayette Park Hotel & Spa and The Lodge at Bodega Bay.
Sponsor Woodside Hotel Group, Menlo Park, Calif., used the $15 million loan on the Lafayette Park Hotel to retire an existing life insurance company loan and to renovate the guestrooms. Woodside used the $11.75 million loan on The Lodge at Bodega Bay to pay off an existing bridge loan facility and return partnership equity.
A life insurance company funded both 10-year, fixed-rate non-recourse loans.
Located on the "Highway 24" corridor in San Francisco's East Bay suburb of Lafayette, the Lafayette Park Hotel & Spa is a full-service hotel offering 138 guestrooms. The city of Lafayette is considered the urban hub of the region with more than 14 million square feet of commercial office space within seven miles of the property.
The Lodge at Bodega Bay sits on the Sonoma County coastline of Bodega Bay. This full-service boutique resort has 83 guestrooms with amenities including Drakes Sonoma Coast restaurant and Fireside Lounge, 6,285 square feet of indoor and outdoor meeting space and the Sonoma Coast Spa and Fitness Center.
"We had tremendous interest in this financing opportunity from both life companies and commercial mortgage-backed securities lenders," said Sonnenblick-Eichner Senior Managing Director Todd Bedingfield. "Our client ultimately decided on a life company execution primarily due to the ability to lock rate at application."
Sonnenblick-Eichner Co. Principal David Sonnenblick noted capital is still available for all product types, including hospitality.