(IMB23) Broeksmit: 'Now is the Time to Dig Deep'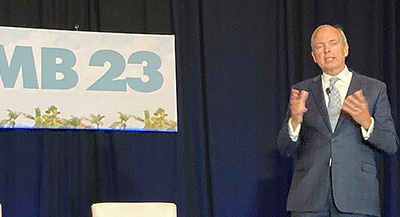 MBA President & CEO Bob Broeksmit, CMB, addresses MBA Independent Mortgage Bankers Conference on Tuesday.
CORONADO, Calif.—Mortgage Bankers Association President & CEO Bob Broeksmit, CMB, opened the MBA Independent Mortgage Bankers Conference here Tuesday with a sober assessment–and an optimistic prognosis.
"My friends and fellow members of the MBA: Now is the time to dig deep and look past the difficulties of the moment. Now is the time to remember the mission and passion that define who we are, and all we do," he said.
Broeksmit noted at last year's IMB Conference in Nashville, the industry celebrated one of the best years for IMBs ever: $2.8 trillion in new loans to nearly nine million customers. Since then, refis have fallen 85%, and purchase loans are down 15%–likely the lowest volume of new loan applications in 22 years.
"I won't sugar-coat it; these are tough times," Broeksmit said. "I served as the president of a mortgage company during the Great Recession, so I have a sense of the decisions you are facing. We've already seen some IMBs close shop in the past few months, and others are looking to merge. And with losses mounting, month over month, cost-cutting is key. When things are this wrong, right-sizing is a matter of survival. These steps aren't easy. They never are. But they are necessary. The tough calls you're making today make it more likely you'll emerge stronger tomorrow."
Broeksmit said there is reason for optimism. "Unlike previous crises, this one is different – in a good way," he said. "Structurally, this downturn looks nothing like the ones that came before…Home equity levels are near record highs. Homeowners have $5 trillion more than they did before the pandemic, putting them in a better position to weather the storm of a recession. Delinquency rates are also at 40-year lows. At the MBA, we think a mild recession is coming, and you'll hear more about that at 10:15 this morning. IMBs have opportunities to meet the demand in home equity lending, in partnership with depositories."
Broeksmit noted demand for homes is still extremely strong, albeit a little bit tempered by the increase in rates over the past year. "But the biggest limiting factor remains supply. As more homes come on the market later this year, you'll likely have more customers lining up," he said. "That's a huge contrast from the crises of old, when demand tanked and supply spiked. And it means IMBs will be better off."
In the wake of the Great Recession, Broeksmit said, policymakers tried to pin the blame on servicers and lenders, including IMBs. "But today, everyone agrees our industry is blameless," he said. "And not only are we not the problem – you and your companies are a huge part of the solution. America is counting on us to lift up families in a down economy. And that's exactly what we will do."
Broeksmit cited several MBA actions aimed at improving IMBs' ability to lower costs and improve margins:
—MISMO. "The 'language of lending,' as we call it, is rolling out more innovations and standards than ever before," Broeksmit said. "From SMART Docs to RONs to eMortgage certifications, MISMO is helping you get more efficient at a time when efficiency matters. And believe me when I say MISMO is just getting started."
—VA. "After years of hard work, Congress passed and President Biden signed a law that modernizes the appraisal process for VA loans," Broeksmit said. "It includes a suite of reforms that will make loans easier to access and cheaper to process. Virtually every IMB will benefit from this law. And the MBA helped make it happen. In fact, our own Chairman-Elect Mark Jones testified about it in Congress – and many of you contacted your elected representatives urging them to vote the right way."
—Ginnie Mae. "We successfully delayed the implementation deadline for Risk-Based Capital Requirements," Broeksmit said. "As you know all too well, these requirements are burdensome and will cause some IMBs to avoid Ginnie Mae servicing. That will leave millions of homebuyers with fewer choices. It doesn't have to be this way."
Ginnie Mae pushed back implementation to the end of 2024. "But to be clear, we're not done," Broeksmit said. "Delay is step one. Reform is step two. We're going to keep working with Ginnie Mae to make these requirements better for you and your borrowers. And we won't rest until we succeed."
—The Consumer Financial Protection Bureau. "I don't have to tell you that the Bureau is engaged in extreme overreach right now," Broeksmit said. "It's regulating and enforcing by press release, instead of following the right process. It should be setting clear and consistent standards, not bad-mouthing you to the consumers you serve. We will not let this stand. We're taking a multi-prong approach to hold the CFPB accountable, and that includes working with lawmakers in Congress to highlight its dangerous actions."
Broeksmit said a good example is the Bureau's attempt to compel non-bank lenders to put all their consent orders in a CFPB database. "That's completely unnecessary, since these documents are already public, and it's one more burden for IMBs," he said. "We'll continue to use every available angle to keep the CFPB in check. You need relief, not more regulation, and you need certainty, not selective enforcement. That's the path to lower costs – and we'll keep fighting to deliver it."
Broeksmit expressed confidence that MBA's actions will empower IMBs in these difficult times. "We work in a business that's full of ups and downs," he said. "We're in a particularly bad time right now, and it may last longer than anyone wants. But the good times will come again, as they always do. And if our history proves anything, it's that the overall trend isn't down. It's up, and we'll again reach heights we never imagined.
It's worth reminding ourselves why we work – and what it is, exactly, that we do," Broeksmit said. "We help that newly married couple get their first home. We help that young family establish a foundation on which they can build. We anchor each community, not only by giving loans but also by giving back…I have faith we'll persevere. And I know our best is yet to come."