Commercial Property Prices Fall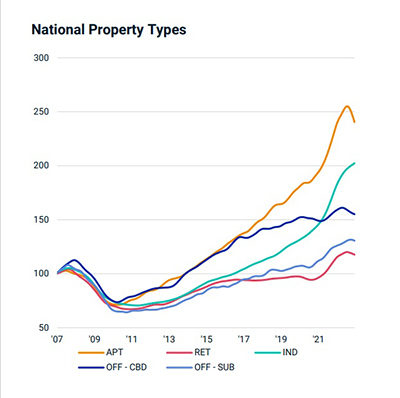 Real Capital Analytics, New York, reported U.S. commercial property prices fell in December as growth seen across the property sectors earlier in 2022 dissipated.
RCA said its CPPI National All-Property Index dropped 1.2% in December and slowed to a 0.9% annual growth rate.
"The impact of higher mortgage costs and falling deal activity has been felt on pricing across the property types, though some sectors are showing more acute changes," RCA said.
RCA noted total U.S. deal volume fell 62% compared to a year earlier in the fourth quarter.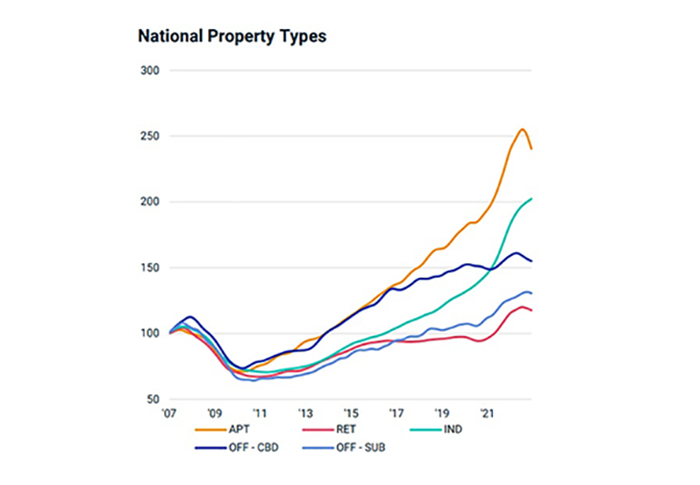 "It was a tough year for commercial property as sharply higher borrowing costs caused values to fall despite healthy rent growth," said Peter Rothemund, Co-Head of Strategic Research at Green Street, Newport Beach, Calif. "And though the correction has been sizable, cap rates will probably continue to go up. They still look low when compared to yields on corporate bonds."
Apartment prices saw the largest monthly price decline of all property sectors, falling 1.9% from November, RCA reported. The annual growth rate slowed to 1.8%, down from 20% or more in first-half 2022.
"The industrial index stood out from the other property sectors as it was the only index to post a monthly gain," RCA said. The index increased 0.5% in December.
Retail prices fell 0.5% in December, causing the annual growth rate to slow to 3.1%. "Retail was the only major property sector to show an increase in deal activity in 2022," RCA said. The index for suburban offices also fell 0.5% in December, slowing annual growth to 4.1%. Central business district office prices posted a 0.4% monthly dip. The index fell 2.1% from a year ago and it was the only index across the property types to post an annual decline.
Prices in the six largest U.S. metros fell 2.1% from a year earlier and 0.8% from November, the seventh consecutive month of negative month-over-month returns. Price growth in non-major metros slowed to a 2.6% annual rate, while prices fell 1.0% from November, RCA said.
"Commercial real estate prices slowed in the last quarter of 2022 across all property subtypes, but growth remained positive for all except two indexes," RCA said. "Sales volume for the past four quarters, on the other hand, slid into negative year-over-year territory for most property subtypes."