2022 Jobs Finish on Strong Note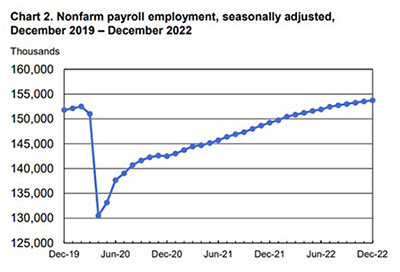 Although nonfarm payroll employment slowed toward the end of the year, it finished on a strong, steady pace, the Bureau of Labor Statistics reported Friday.
The report said total nonfarm payroll employment increased by 223,000 in December, and the unemployment rate edged down to 3.5 percent. Notable job gains occurred in leisure and hospitality, health care, construction and social assistance. The number of unemployed persons edged down to 5.7 million in December.

The change in total nonfarm payroll employment for October revised down by 21,000, from +284,000 to +263,000, while the change for November revised down by 7,000, from +263,000 to +256,000. With these revisions, employment gains in October and November combined were 28,000 lower than previously reported.
The number of long-term unemployed (those jobless for 27 weeks or more) declined by 146,000 to 1.1 million in December. This measure is down from 2.0 million a year earlier. The long-term unemployed accounted for 18.5 percent of all unemployed persons.
The employment-population ratio increased by 0.2 percentage point over the month to 60.1 percent. The labor force participation rate was little changed at 62.3 percent. Both measures have shown little net change since early 2022. These measures are each 1.0 percentage point below their values in February 2020, prior to the coronavirus pandemic.
"The December jobs report showed only a gradual deceleration in the pace of job growth and a small decline in the unemployment rate," said Mike Fratantoni, Chief Economist with the Mortgage Bankers Association. "The one sign of softness was a reduction in wage growth, now at 4.6% on a year-over-year basis. Although there are an increasing number of high-profile layoffs, particularly in the technology sector and also in the mortgage industry, hiring in other sectors of the economy are more than offsetting these on net.
Additionally, Fratantoni noted the JOLTS report last week showed more than 10 million job openings in the economy. "The consistent slowing in the pace of wage growth may reflect employer caution as other data clearly signal a weaker economy in 2023," he said. "Slower wage growth should also be reflected in further reductions in the rate of inflation, as businesses will have less cause to push prices up to pay for higher wages."
Ultimately, Fratantoni said, this should result in inflation dropping back to the Federal Reserve's 2% target. "Today's report will not lead the Fed to quickly change course with respect to the path of interest rates, and we expect a 25-basis-point hike at the next meeting," he said. "Mortgage rates are off their highs from last year and we expect them to trend down over the course of 2023."
"This report reflects a slowing, but still very strong labor market," said Odeta Kushi, Deputy Chief Economist with First American Financial Corp., Santa Ana, Calif. "The Federal Reserve will be glad to see slowing wage growth, and job growth is giving more hope for a soft landing."
Kushi noted residential building construction employment increased by 0.3% month over month, while non-residential picked up by 0.7%. Residential building is up 8.3% compared with pre-pandemic levels, while non-residential building remains 3.1% below. "Employment in construction increased by 28,000 in December, as specialty trade contractors added 17,000 jobs," she said. "Construction employment increased by an average of 19,000 per month in 2022, which is near the average of 16,000 per month in 2021."
"The December employment report was generally encouraging," said Sarah House, Senior Economist with Wells Fargo Economics, Charlotte, N.C. "The December jobs report brought further signs that the labor market is beginning to soften, but remains incredibly strong."
The report said average hourly earnings for all employees on private nonfarm payrolls in December rose by 9 cents, or 0.3 percent, to $32.82. Over the past 12 months, average hourly earnings have increased by 4.6 percent. Average hourly earnings of private-sector production and nonsupervisory employees rose by 6 cents, or 0.2 percent, to $28.07.
The average workweek for all employees on private nonfarm payrolls declined by 0.1 hour to 34.3 hours in December. In manufacturing, the average workweek for all employees was little changed at 40.1 hours, and overtime declined by 0.2 hour to 2.9 hours. The average workweek for production and nonsupervisory employees on private nonfarm payrolls decreased by 0.1 hour to 33.8 hours.