Pending Home Sales End Six-Month Slide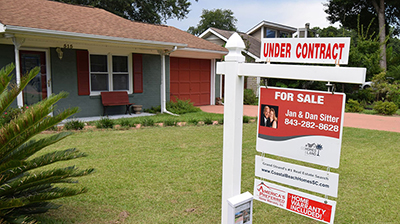 The National Association of Realtors and Redfin, Seattle, noted improvement in December pending home sales, marking the first improvement since last spring.
The NAR Pending Home Sales Index, a forward-looking indicator of home sales based on contract signings — improved by 2.5% to 76.9 in December. Year-over-year, however, pending transactions dropped by 33.8%.
Regionally, pending sales were mixed. In the South, the index rose by 6.1% to 94.1 in December, but fell by 34.5% from a year ago. In the West, the index rose by 6.4% in December to 58.6, but fell by 37.5% from a year ago.
In the Northeast, however, the index fell by 6.5% from last month to 64.7 and fell by 32.5% from a year ago. In the Midwest, the index fell by 0.3% to 77.6 in December and fell by 30.1% from one year ago.
"This recent low point in home sales activity is likely over," said NAR Chief Economist Lawrence Yun. "Mortgage rates are the dominant factor driving home sales, and recent declines in rates are clearly helping to stabilize the market."
"Another leading indicator signals that the housing market's deep freeze may be poised to thaw," said Odeta Kushi, Deputy Chief Economist with First American Financial Corp., Santa Ana, Calif. "We now have multiple leading housing indicators that are pointing to modestly higher sales activity. Mortgage applications have been trending higher alongside lower mortgage rates, pending-home sales are up, and home builder confidence increased in January."
Kushi said interested buyers are ready. "From a financial perspective, the decision to buy a home comes down to a payment-to-paycheck calculation, and lower mortgage rates may help to reduce the mortgage payment while higher incomes can increase one's monthly paycheck," she said. "Lower mortgage rates and a still strong labor market have helped to stabilize the housing market. The market suffered a deep freeze in the winter months of 2022 but, if these dynamics persist, there is reason to believe that it will begin to thaw as the spring home-buying season approaches."
Separately, Redfin reported pending sales fell 26% year over year during the four weeks ending January 22, the smallest drop in more than three months. Pending sales began rising on a month-over-month basis in December as buyers started returning to the market, encouraged by their increased negotiating power and mortgage rates that have declined to 6.1% from their 7% peak.
"That signals the recent increase in early-stage homebuyer demand—mortgage-purchase applications are up 28% since November and Redfin home-tour requests are on the rise—is starting to translate into sales," Redfin said.
The report noted more demand from buyers and less supply from homeowners—new listings of homes for sale are down 18% from a year ago, though that's a smaller drop than recent weeks—is holding prices steady. The median U.S. home-sale price rose 1.1% year over year to $350,000, the biggest increase in over a month. On a local level, the number of metros where prices are falling from a year earlier is shrinking. Home prices declined in 17 of the 50 most populous U.S. metros, with the biggest drops in the Bay Area, down from 20 at the beginning of January.
"Homebuyers are starting to feel more confident as mortgage rates tick down closer to 6% than 7% and the overall economy chugs along with surprising resilience, especially in the labor market. Steadily cooling inflation is likely to prevent mortgage rates from jumping back up," said Redfin Economics Research Lead Chen Zhao. "When rates were seesawing up and down in the fall, many buyers dropped out because they could wake up the day after finding their dream home to a three-digit increase in their potential monthly payment. Now they have a better sense of how far their budget will go in which neighborhoods and which homes they can afford."