STR: Hotel Construction Up Year-over-Year for First Time Since Late 2020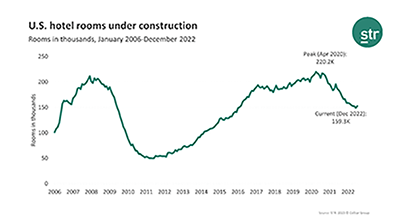 U.S. hotel construction increased slightly in December after 25 consecutive months of year-over-year declines, reported STR, Hendersonville, Tenn.
The number of guest rooms under construction totaled 159,344 in December, a 0.3% increase from a year before. Units in the final planning stage totaled 213,066, a 15% increase.
But STR noted a sizeable decrease in hotel rooms in the pipeline's early planning phase. That total, just over 240,000 rooms, was down 15.6% from a year before.
"While the overall pipeline continued to contract year-over-year, December showed strength in the later phases of development," said Alison Hoyt, STR Senior Director of Consulting. "Over the past year, we've seen late-stage pipeline rooms consistently decline from 2021 levels, while rooms in the planning phase often showed double-digit growth."
Hoyt noted she started to see a change in this pattern in November, when final planning rooms significantly jumped year-over-year and planning rooms came down pretty firmly. "The same occurred in December, with the only difference being construction increasing slightly over 2021," she said.
STR said New York, Phoenix and Dallas will see the largest supply percentage increases from current construction.
When looking at the in-construction phase of the pipeline, luxury chains show the highest number of rooms as a percentage of existing supply:
1. Luxury (5.3%, 7,241 rooms)
2. Upscale (4.6%, 41,111 rooms)
3. Upper Midscale (3.7%, 43,946 rooms)
4. Upper Upscale (3.0%, 20,140 rooms)
5. Midscale (2.5%, 10,766 rooms)
6. Economy (0.9%, 6,482 rooms)
"Given the pricing power luxury chains have had over the past three years, it is no surprise the segments remain at the forefront in terms of projected growth," Hoyt said. "The chain's rapid room rate recovery and growth between 2020 and 2022 has led developers to push into the segment."
Markets with the most high-end hotel rooms under construction are those that performed well during COVID or are strong leisure destinations, such as New York and Fort Worth/Arlington, Texas. "While New York also has the most rooms in construction as a percentage of existing supply, the market will likely see a slowdown after ongoing projects are built due to new development restrictions in place," the report said.