(IMB23) What Nina Tassler Tells Her Daughter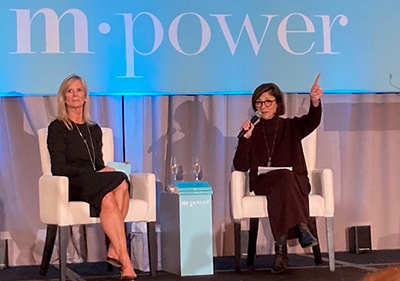 CORONADO, Calif.—When Nina Tassler became Chair of CBS Entertainment in 2014, it marked a highlight of a career in which success came through hard work and unusual support in what has traditionally been a male-dominated industry.
Sound familiar?
Speaking here at the mPower Luncheon during the MBA Independent Mortgage Bankers Conference, Tassler—whose tenure included championing shows such as How I Met Your Mother, Madame Secretary, The Good Wife, The Big Bang Theory and the CSI franchise—talked about working from the ground up all the way to the top.
"The first job I got was as a receptionist at a talent agency," Tassler said. "After seven months, I got a call from a larger talent agency and began one of the most extraordinary learning experiences of my life.'
Tassler said she had the good fortune to work with a talent agent who believed in treating everyone with dignity. "When he was on the phone, I didn't know if he was talking to his mechanic or [actor] Daniel Day Lewis—he treated everyone the same," she said. "It was a lesson I've tried to apply every day."
When she joined CBS in 1997, the network was at the bottom of the ratings. "We looked at every aspect and decided we were going to fix every part of the network—prime time, daytime, summer programming, children's programming, late night," Tassler said. "We had to dismantle everything and rebuild everything from the ground up."
That process took several years; during that period Tassler moved steadily up the ladder, from Vice President of Drama with CBS Productions to SVP Drama Development in 1998, President of Entertainment in 2004 and Chair in 2014.
In 2015, with CBS the highest-ranked television for 12 of the past 13 years, Tassler said she realized her job was done. "I wanted to [exit] on my terms," she said. "You have to know when to step aside and make way for the next generation. The person who ultimately replaced me was younger, bright and the best person for the position."
Tassler said the entertainment and mortgage banking industries have similar goals. "We are very much about improving the customer experience," she said. "You have gone through a lot of change in the past few years; television has gone from an advertising-based business to a subscription business. What differentiates us is how we connect with each other in the post-Zoom world."
Tassler said failure is a part of any business. "Television has a failure rate of 80%," she said. "Not exactly a good business model, but it works. It's important to have a culture in which learning how to fail—but not branding yourself as a failure—is an important learning process that leads to ultimate success."
After CBS, Tassler became a partner/co-founder in PatMa Productions alongside director/producer Denise Di Novi. Under PatMa, the team is developing a variety of film, television and theatre projects with an emphasis on inclusion.
In 2017, Tassler published her first book, "What I Told My Daughter: Lessons from Leaders on Raising the Next Generation of Empowered Women" through Simon & Schuster. The book consists of essays from a number of iconic women leaders, including Madeleine Albright, Ruth Bader Ginsburg, Geena Davis, Peggy Orenstein, Nancy Pelosi, Whoopi Goldberg, Laura Bush and Cecile Richards.
"I didn't want this to be one woman telling someone how to live their life; I wanted to have essays from a number of women sharing their experiences," Tassler said.
One essay in the book that really resonated with Tassler was Ginsburg's, "mostly in how she acknowledged her husband; I would not be where I am today without my husband [actor Jerry Levine]. But what also struck me was the common ground so many of the authors discovered. They all came from diverse backgrounds—Laura Bush, Nancy Pelosi, Geena Davis, Whoopi Goldberg—and they all talked about 'choice' in their own way, but in the same theme."
Tassler said she has been fortunate to have worked with strong women and strong men. "I was mentored by some really extraordinarily talented individuals," she said. "And the #metoo movement has opened the doors for so many more people. We all used to have a Plan A and a Plan B. Now is the time to have a Plan C and even a fourth chapter."