(IMB23) The Mortgage Market: IMB Leaders' Perspectives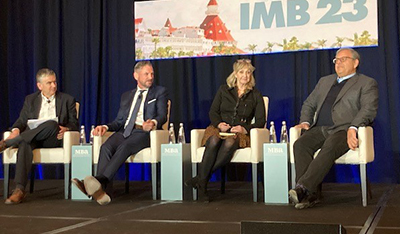 (MBA Chief Economist Mike Fratantoni (l) with panelists John Hedlund, Chrissi Rhea and Stanley Middleman at the MBA Independent Mortgage Bankers Conference & Expo.)
CORONADO, Calif.—With a volatile economic outlook, how are the practitioners—the independent mortgage bankers—approaching 2023 and beyond?
"We're looking forward to 2023 because, quite frankly, it can't possibly be as bad as 2022," said Chrissi Rhea, President and CEO of Mortgage Investment Group, Knoxville, Tenn., here at the MBA Independent Mortgage Bankers Conference & Expo. "We spent a lot of time in 2022 trying to figure out how we are going to approach 2023. We are fortunate to be in the Southeast, where there is still plenty of land available. We spent a lot of time examining the builder market and tried to put together a lot of areas where we can address rural housing and affordable housing. We think 2023 is going to be a great year for us."
"The problems go beyond the forecasts," said Stanley Middleman, CEO of Freedom Mortgage Corp., Mount Laurel, N.J. "By the end of 2024-2025, half of the mortgages will be part of the 'new normal,' and what I expect to see is a huge run-up in property values in the future. We have to be able to see around the corner so that we can manage change and not be managed by change."
Middleman is less optimistic about 2023. "I encourage you to participate in your kids' sports teams, because you're going to have a lot of time on your hands," he said.
"I'm not confident that margins come back until the market comes back," said John Hedlund, COO and Managing Director of AmeriHome Mortgage, Thousand Oaks, Calif., an IMB that was recently acquired by Western Alliance Bank Co. "The building industry is still scarred by the past year. And being in California, I'm very concerned about the affordability aspect."
"I'm a little more optimistic about first-time homebuyers," Rhea said. "I get it about California, but there are a lot of options in other parts of the country. We're a little more positive about 2023."
"You have to remain optimistic," Hedlund said. "That's just who we are, but it might keep us in the red for a little while."
With delinquencies and foreclosures likely to rise in 2023, servicing could be more challenging, Middleman said. "I don't think our business is as thoughtful about the servicing business," he said. "We spent a lot of time building our servicing portfolio knowing that at some point it would increase in value…the value is reasonable and predictable."
"I am worried, this year and potentially on out, about the volatility of the servicing market," Hedlund said. "There could be a lot of sellers this year, but at what price?"
Panelists expect the next few quarters to be very competitive.
"We're very positive that we'll continue to grab market share," Rhea said. "We expect to be competitive and make a difference in the marketplace. Our loan officers did very well in the past few years, and they are working very hard and come up with some great ideas to remain competitive."
"I'm hopeful of [the MBA] forecasts," Hedlund said. "But there are still too many people competing for too few loans."
"The reality is, the only way you're going to grow is by stealing each other's lunch," Middleman said. "So, go big or go home."