U.S. Commercial Property Prices Tumble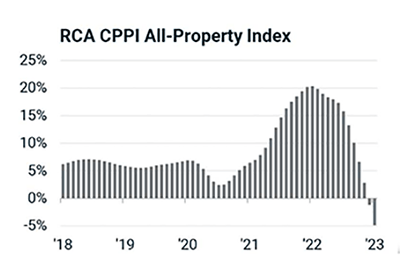 U.S. commercial property prices fell in January at an annual pace of decline not seen since late 2010, reported Real Capital Analytics, New York.
Michael Savino, Senior Analyst with Real Capital Analytics, said the RCA CPPI National All-Property Index dropped 4.8% from a year ago and 2.7% from December. This monthly drop would equal be 27.9% decline if annualized.
"A spike in mortgage costs in 2022 has thwarted deal activity in commercial property, pushing pricing lower," Savino said, noting U.S. commercial real estate purchases totaled less than $20 billion in January, the fifth-weakest start to a year since 2005.
"Apartment prices tumbled, posting the largest declines of any property segment on the year and on the month," Savino said. The apartment index dropped 4.6% from a year earlier and fell 2.8% in January from December.
Prices of suburban office properties fell 0.5% from a year earlier and 1.1% from December, the fifth consecutive month of negative monthly returns, RCA reported. The index for offices in central business districts fell 0.9% from a year ago.
Retail sector property prices dropped 0.1% from a year ago. "The retail index has posted negative monthly returns for six months in a row," Savino said.
The industrial index was the only sector to post annual growth in January, RCA reported. Industrial prices rose 6.4% from a year earlier.
Prices in the RCA Major Metro index, Boston, Chicago, Los Angeles, New York, San Francisco and Washington, D.C., recorded the sharpest rate of decline since June 2010, falling 6.9% year-over-year. This index has posted monthly declines for eight months in a row. The RCA Non-Major Metro index dropped 2.0% from a year earlier and 1.8% from December.
Green Street, Newport Beach, Calif., reported its commercial property price index of institutional-quality properties decreased 0.6% in January. This index has fallen 14% from its March 2022 peak, while the index tracking properties in core sectors is down 17%.
"Commercial property prices are down about 15% from their peak," said Peter Rothemund, Co-Head of Strategic Research at Green Street. "Most investors would probably agree with that, even if the yearly appraisal of their properties might suggest otherwise. So, while appraisals are likely headed lower, the real-time picture of property pricing shows a market where we've either reached bottom or are very close to it."