Consumer Confidence Dips on High Prices, Interest Rates
The Conference Board, New York, said its monthly Consumer Confidence Index fell in February, marking the second consecutive monthly decline, amid economic uncertainty and persistent inflation.
The Index now stands at 102.9, down from 106.0 in January (a downward revision). The Present Situation Index—based on consumers' assessment of current business and labor market conditions—increased to 152.8 from 151.1 last month. The Expectations Index—based on consumers' short-term outlook for income, business, and labor market conditions—fell further to 69.7 from a downwardly revised 76.0 in January.
Notably, said Ataman Ozyildirim, Senior Director of Economics with The Conference Board, the Expectations Index has now fallen well below 80—the level which often signals a recession within the next year. It has been below this level for 11 of the past 12 months.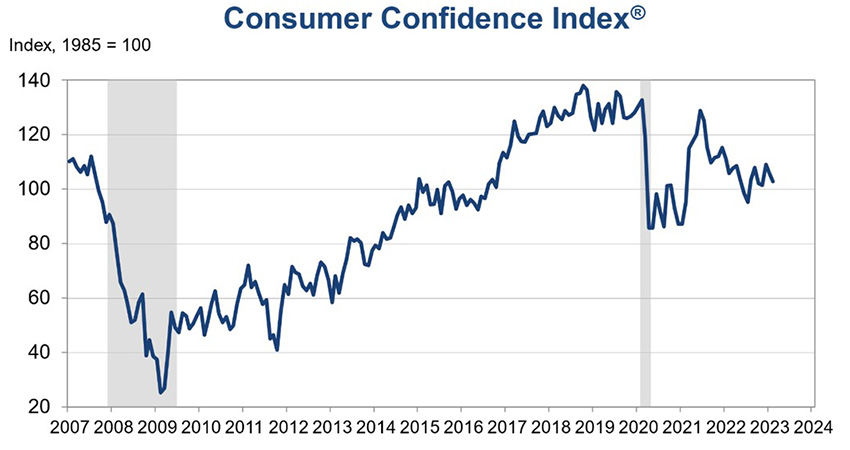 "The decrease reflected large drops in confidence for households aged 35 to 54 and for households earning $35,000 or more," Ozyildirim said. "While 12-month inflation expectations improved—falling to 6.3 percent from 6.7 percent last month—consumers may be showing early signs of pulling back spending in the face of high prices and rising interest rates. Fewer consumers are planning to purchase homes or autos and they also appear to be scaling back plans to buy major appliances. Vacation intentions also declined in February."
"A tight labor market is keeping consumers feeling secure about their present situation, but still high prices and rising borrowing costs leave consumers particularly concerned about what lies ahead," said Shannon Seery, Economist with Wells Fargo Economics, Charlotte, N.C. "The 3.1 point drop in consumer confidence for February pours some cold water on the streak of strong economic data received to start the year. Confidence has now fallen in four of the past five months, and this report tells us that although consumers are still enjoying the benefits of a tight labor market, still-high prices and higher interest rates are making them less sanguine about future economic conditions."
The report said consumers' assessment of current business conditions worsened in February: 17.8% of consumers said business conditions were "good," down from 19.9%, while 17.7% said business conditions were "bad," down from 19.0%.
Consumers' appraisal of the labor market was more favorable: 52.0% of consumers said jobs were "plentiful," up from 48.1%, while 10.5% of consumers said jobs were "hard to get," down from 11.1%.
Consumers became more pessimistic about the short-term business conditions outlook in February: 14.2% of consumers expect business conditions to improve, down from 18.4%. Meanwhile, 21.9% expect business conditions to worsen, down from 22.6%.
Consumers were less upbeat about the short-term labor market outlook: 14.5% of consumers expect more jobs to be available, down from 17.7%. Yet, 20.3% anticipate fewer jobs, down from 21.4%.
Consumers' short-term income prospects became considerably less upbeat: 13.4% of consumers expect their incomes to increase, down from 17.4% last month, while 11.6% expect their incomes will decrease, down from 13.4% last month.