#MBACREF23: Solving America's Affordable Housing Supply Challenge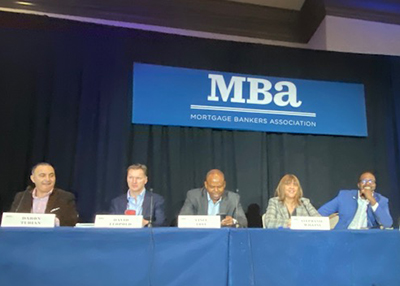 (l-r: Daron Tubian, David Leopold, Vince Toye, Stephanie Wiggins, Chad Musgrove)
SAN DIEGO–The persistent affordable rental housing shortage is growing worse as rents rise faster than incomes in many places, industry practitioners said here at the MBA Commercial/Multifamily Finance Convention & Expo.
Chad Musgrove, Senior Vice President with M&T Realty Capital Corp., Baltimore, laid out the problem: "There are rising rents, strong demand and limited supply," he said. "In fact, there is not a single state or county in the U.S. where a person earning minimum wage would be able to afford to rent a two-bedroom home. More than 20 million families spend more than half of their income on housing. So, what do we do about this?"
Stephanie Wiggins, Head of Production, Agency Lending, PGIM Real Estate, Newark, N.J., noted PGIM is an Agency lender. "We all benefit from the Agencies leaning in and getting creative about what we can lend our clients," she said. "In addition, we have embarked on a journey about who we have been in the affordable housing space and who we need to be to help meet the need. We're deeply committed to it throughout our enterprise."
JP Morgan Chase Head of Community Development Banking, OBS & Agency Lending Vince Toye said his bank does a lot of work in affordable lending, mainly in the LIHTC space, and has a new focus on workforce housing. "We work closely with other parts of the company that are doing impact investing, working with community development financial institutions and developers of color," he said. "They are closer to the communities, so they provide support to the developers who are working in lower-income areas. We also have a policy center in the firm to come up with different initiatives in manufactured housing and elsewhere."
One of the best things about working in the affordable housing sector is its innovation, spurred by both healthy competition and changing public policy, noted David Leopold, Senior Vice President and Head of Affordable Housing with Berkadia, New York. "The more we can help owners derive value from all available public subsidy sources, the farther private capital will actually go toward developing new affordable housing," he said.
Leopold said Berkadia looks at a broad definition of affordability. "The problem is particularly acute in lowest-income families, but over the last three years you're seeing an increase in rent-burdened households in every quintile of income throughout the U.S.," he said. "We've increased our own capacities to build out large revolvers aimed at preservation of existing affordable housing. We also work with a number of private investors to leverage that available capital from a variety of sources. It's important to bring every tool to bear to preserve or develop new affordable housing."
Daron Tubian, Head of Affordable Housing Investments with Barings, Charlotte, N.C., noted there is no "one size fits all" solution to the affordable housing challenge. "It takes a holistic approach," he said. "I don't think there is a single product set that will address all challenges in the market. We have to be collectively sensitive to the state of the market and understand that not everything is black and white." When situations come up, as they inevitably will, you will need thinking outside the box to find a solution, he said.
Tubian reported seeing dramatic growth over the past 24 months from market-rate developers seeking to enter the affordable space. "It makes business sense and there is a lot of need," he said. "Market-rate developers are hiring more people with affordable housing expertise to do that."
If a new developer seeks to enter the affordable housing space, their best bet is to team up with an experienced practitioner, Wiggins said. "If you don't have experience in this area, pick the right partner to ensure you remain in compliance," she said. "You don't want to mess it up."
The Mortgage Bankers Association helps develop stronger and more effective affordable housing partnerships in both the policy and business arenas with its CONVERGENCE initiative.