#MBACREF23: 2023 Commercial/Multifamily Borrowing, Lending Expected to Fall to $684B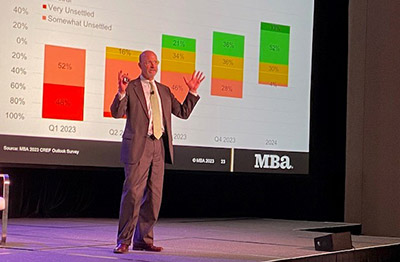 (MBA Vice President Jamie Woodwell addresses MBA CREF Convention & Expo Monday.)
SAN DIEGO – The Mortgage Bankers Association said total commercial and multifamily mortgage borrowing and lending is expected to fall to $684 billion this year, a 15 percent decline from an expected 2022 total of $804 billion.
MBA issued its updated baseline 2023 forecast released here today at its 2023 Commercial/Multifamily Finance Convention and Expo.
Multifamily lending alone (which is included in the total figures) is expected to drop to $384 billion in 2023 – a 16 percent decline from last year's expected total of $459 billion. MBA anticipates borrowing and lending will rebound in 2024 to $906 billion in total commercial real estate lending, with $486 billion of that total in multifamily lending.
"MBA's updated forecast is built on a base case of economic weakness at the start of 2023 with a moderation in interest rates and an overall improvement in the economy as the year goes on," said Jamie Woodwell, MBA Head of Commercial Real Estate Research. "Given changes in interest rates and investment yields over the last year, new deals and loans are sizing differently than in previous years. These new changes will take time  for buyers and sellers to digest, and we expect the logjam to suppress volumes this year."
Woodwell told attendees for originations, 2022 was a tale of two halves. "The first half was strong, the second half was down more than half from where it had been a year before," he said. "That's the momentum–or lack thereof–that we brought into 2023."
Woodwell said MBA expects loan maturities and outstanding adjustable-rate loans to lead testing of today's market conditions. "For long-term loans, the last decade has seen tremendous growth in property incomes and values – both of which will support properties' abilities to support new loans," he said. "Properties with interest rate resets and shorter-term loans that transacted or refinanced more recently will be much more dependent on the particulars of that loan and property."
"We've gone through a very rapid adjustment in interest rates in a short time.," Woodwell added. "Think about the 10-year Treasury rate: in the beginning of 2013 it was about 150 basis points lower than it is today. As the year goes on that gap will close a bit because rates rose during 2013. And when you think about shorter-term loans, there is a far more dramatic increase. The base two-year rate was essentially zero two years ago, so any increase is dramatic against that extremely low base rate."
For additional commentary, visit MBA's Commercial/Multifamily Market Intelligence Blog here.
MBA's commercial/multifamily members can download a copy of MBA's latest Commercial/Multifamily Real Estate Finance Forecast at www.mba.org/crefresearch.