Miami Leads Migration Destinations; Austin for First-Time Home Buyers
(Austin, Texas.)
A record 25% of home searchers looked to move to a different U.S. metro in January, many in search of relatively affordable housing, said Redfin, Seattle. And Bankrate.com, New York, said Austin, Texas ranked highest for first-time home buyers.
Redfin said the share of relocating homebuyers is up from 24.5% in the fourth quarter, 22.8% a year ago and 18% before the pandemic. The report said while high mortgage rates have caused many would-be homebuyers to back out of the market, with overall U.S. home sales down considerably from a year ago, among the people who are buying homes, a record portion are relocating. That's largely due to the ongoing affordability crisis.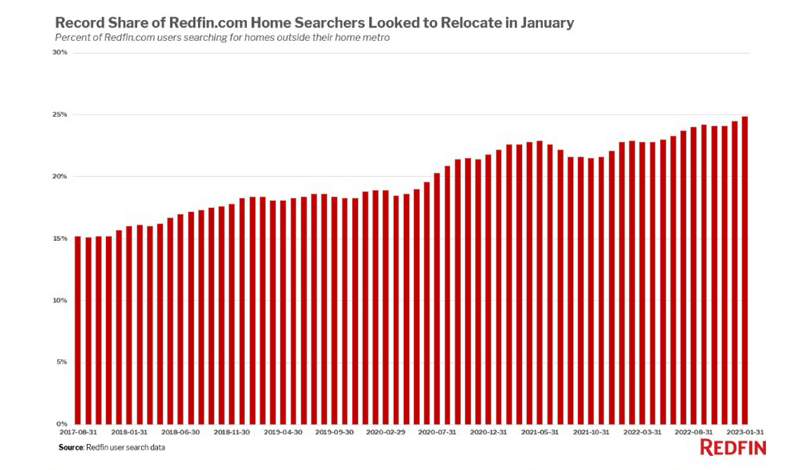 While home prices soared last year in many popular migration destinations such as Sacramento and Phoenix, those places are now among those where prices are dropping fastest. Plus, they're much more affordable than the places people are leaving. Los Angeles, where the typical home sells for about $800,000, was the most common origin for homebuyers moving to Las Vegas and Dallas, both popular destinations where the typical home sells for roughly half of that.
The report said Miami was the most popular migration destination in January, claiming the top spot for the first time since August. Half of the 10 most popular destinations were in Florida: Tampa, Cape Coral, Orlando and North Port-Sarasota are also on the list.
Homes in Florida certainly aren't cheap; the typical Miami home sold for $470,000 in January, compared with the $383,000 national median. But they do tend to be less expensive than the places people are coming from. The typical home in New York, the top origin for homebuyers relocating to Miami, sold for $650,000 in January. Plus, Florida's overall cost of living is lower because it doesn't have a state income tax.
"A lot of buyers have flocked into coastal Florida from out of town over the last several months," said Elena Fleck, a Redfin agent in Palm Beach. "Buyers moving in from places like New York and San Francisco are helping the local market recover from last fall's housing downturn. They're not nearly as fazed by high mortgage rates because homes here are so much less expensive than their hometowns, and they get larger lots, pools, nice weather and lower taxes."
After Miami, Sacramento, Las Vegas and Phoenix were the most popular destinations. Those are all mainstays on the migration hotspot list because, like Florida, buyers moving in from expensive coastal cities can find bigger homes for less money in warm climates. The typical home in eight of the 10 most popular destinations is less expensive than the typical home in the most common origin.
More homebuyers looked to leave San Francisco and Los Angeles than any other U.S. metro in January. Next come New York, Washington, D.C., Chicago and several other major cities. This ranking is determined by net outflow, a measure of how many more people are looking to leave a metro than move in.
Meanwhile,a Bankrate.com study of best metros for first-time home buyers found the Austin-Round Rock, Texas, metropolitan ranked highest, based on affordability, job market, market tightness and wellness/culture.
Austin-Round Rock scored 1st in job market, 2nd in market tightness, and 6th in wellness & culture, which boosted the metro into the top overall spot, despite scoring 35th in affordability.
Six of the ten best metro areas for first-time homebuyers are in either Texas, Florida or Missouri. These include Dallas-Fort Worth-Arlington (9th overall, 7th in job market); Jacksonville (5th overall, T-8th with Riverside-San Bernardino-Ontario in market tightness) and Orlando (10th overall, 7th in market tightness); and Kansas City (2nd overall, 3rd in affordability) and St. Louis (8th overall, 2nd in affordability).
The other top-ranking metros are Raleigh, N.C. (3rd overall, 1st in market tightness); Minneapolis-St. Paul-Bloomington, Minn. (4th overall, 5th in job market); Oklahoma City, Okla. (6th overall, 12th in affordability and job market); and Indianapolis-Carmel-Anderson, Ind. (7th overall, 8th in affordability).
"The pandemic-driven housing boom sent home values soaring, and it intensified the affordability gap between low-priced and high-priced metro areas," said Bankrate.com analyst Jeff Ostrowski. "But now that virtual workplaces are standard for white-collar employees, it's possible to take your big-city income to a less expensive part of the country. Texas and Florida have been attracting an influx of new residents. From April 1, 2020, to July 1, 2022, the two states saw their combined populations grow by more than 1.5 million residents, according to the U.S. Census Bureau."
On the other end, Washington-Arlington-Alexandria is the worst metro for first-time homebuyers, ranking 50th overall. The metro fell short in job market (44th), affordability (T-39th with Phoenix-Mesa-Scottsdale), and market tightness (38th), despite ranking highly in wellness & culture (T-9th with Boston-Cambridge-Nashua and Las Vegas-Henderson-Paradise).
Six of the other ten worst metro areas for first-time homebuyers are located in California, including San Diego-Carlsbad (47th), Riverside-San Bernardino-Ontario (46th), Sacramento-Roseville-Arden-Arcade (45th), San Jose-Sunnyvale-Santa Clara (44th), Los Angeles-Long Beach-Anaheim (43rd), and San Francisco-Oakland-Hayward (41st).
According to another Bankrate study, Austin-Round Rock is also America's best place to live in 2023.
"Austin has experienced a boom in tech jobs," Ostrowski said. "And as a result, the metro area's incomes are the highest in Texas. The city also is home to the University of Texas and a thriving music scene."