Berkadia: Commercial Real Estate Professionals Expect Market to Stabilize
Berkadia, New York, said the multifamily market remains healthy despite weakening fundamentals, capital markets uncertainty, persistent inflation and recession rumors.
"As real estate investors adapt strategies and investment decisions to shifting market conditions, we remain sanguine about multifamily investing, fundamentals and operations," said Berkadia Executive Vice President and Head of Production Ernie Katai. "While this shift is coupled with headwinds and economic uncertainty, this environment is nothing we haven't conquered before…we believe we are reverting back to national historic average."
Katai said the sector has been challenged over the last year, "[But] we believe multifamily is still a desirable asset class with the potential for attractive investor returns, resiliency and capacity to withstand trying times," he said.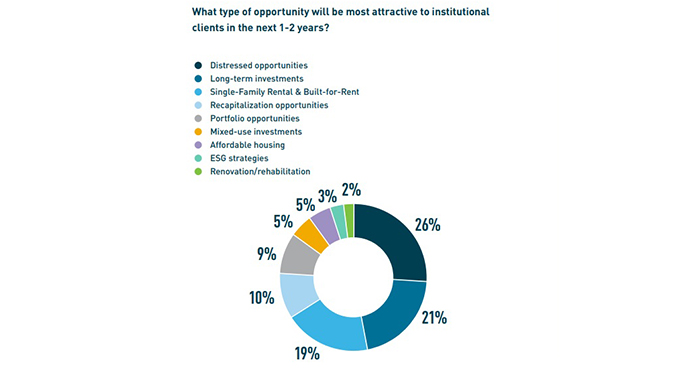 The report said apartment construction and deliveries will likely swell in 2023 despite lingering construction issues. It noted the Northeast (87%), Midwest (79%) and Southeast (59%) in particular have seen increasing apartment supply over the last six months. Nearly 60% of people surveyed said they expect multifamily rental demand will outpace new apartment supply this year.
"Deliveries are definitely one of the biggest near-term pain points for the apartment sector, but when you look at long-term demand, the nation is still undersupplied as a whole," Berkadia said.   
When asked about the likelihood of the economy tipping into a recession over the next 12 months, more than half of those surveyed said yes, while 35% said they believe the economy is already in a recession.
The survey also found across each region, a majority of investors are holding off on making investments due to market uncertainty, particularly in the Northwest (73%) and Midwest (68%) regions. "However, investors are still active and transactions are getting done, albeit at a slower pace," the report said. When asked about institutional transaction volume this year, 75% of respondents said they believe 2023 will be weaker than 2022.
"Economic instability has been causing both short- and long-term disruptions for investors," Katai said. "While we weather this 'transitionary' period before the new normal is defined, we remain focused and continue to be bullish on the multifamily industry as a whole."