January New Home Purchase Mortgage Applications Up 42%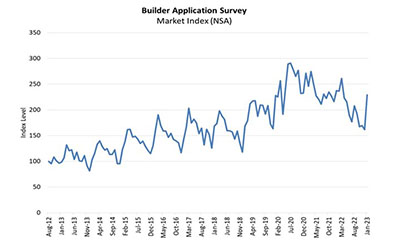 Mortgage applications for new home purchases in January jumped by 42 percent from December but fell by 3.5 percent from a year ago, the Mortgage Bankers Association reported Friday.
MBA Builder Applications Survey data for January reported by product type, conventional loans composed 68.4 percent of loan applications, FHA loans composed 20.3 percent, RHS/USDA loans composed 0.3 percent and VA loans composed 11 percent. The average loan size of new homes increased from $399,555 in December to $401,631 in January.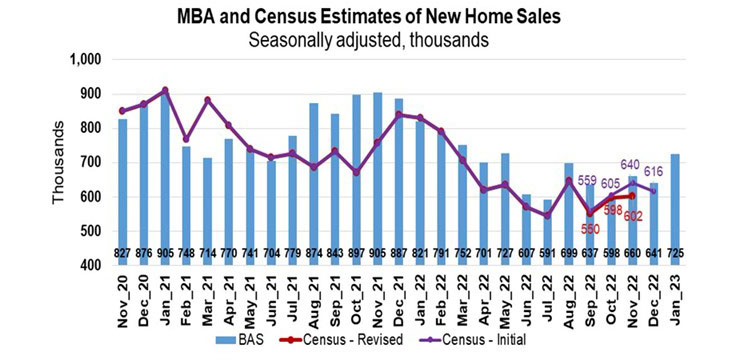 MBA estimated new single-family home sales, which have consistently been a leading indicator of the U.S. Census Bureau's New Residential Sales report, at a seasonally adjusted annual rate of 725,000 units in January, based on data from the BAS, an increase of 13.1 percent from the December pace of 641,000 units. On an unadjusted basis, MBA estimated 63,000 new home sales in January, an increase of 40 percent from 45,000 new home sales in December. 
"Applications for new home purchases increased in January, driven by typical seasonal patterns and lower mortgage rates," said Joel Kan, MBA Vice President and Deputy Chief Economist. "The 30-year fixed rate declined almost 40 basis points over the month, and this stirred some homebuyers to act, especially those who might have delayed their purchase when mortgage rates were higher. MBA's estimate of seasonally adjusted new home sales was also up robustly, seeing a 13 percent gain in the sales pace. However, activity was still 12 percent behind last year's pace, when mortgage rates were over two percentage points lower. January was also a strong month for single-family housing completions, according to the U.S. Census Bureau. Home builders may have offered additional incentives to sell some of their inventory after last year's slowdown in sales."
Kan noted home builders have reported improved sentiment in the past two months, but Census data on new residential construction for January showed single-family housing starts and permitting activity have not picked up yet. "Additionally, home buyers remain sensitive to mortgage rates, which have trended higher in recent weeks and could delay a potential turning point in the housing market," he said.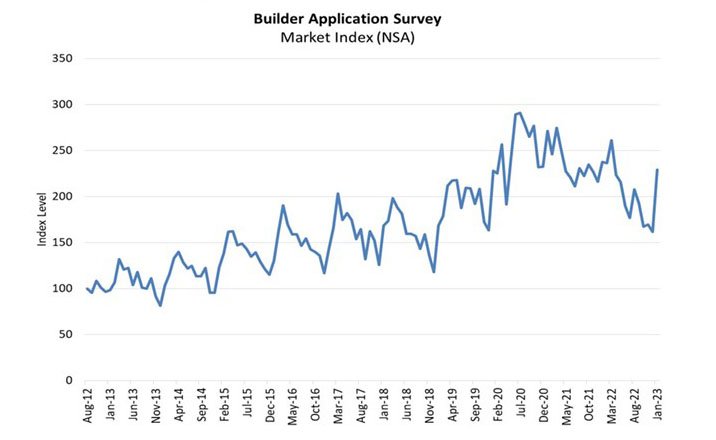 The new home sales estimate is derived using mortgage application information from the BAS, as well as assumptions regarding market coverage and other factors. Changes do not include adjustments for typical seasonal patterns.
The MBA Builder Applications Survey tracks application volume from mortgage subsidiaries of home builders across the country. Using these data, as well as data from other sources, MBA provides an early estimate of new home sales volumes at the national, state and metro level. These data also provide information regarding types of loans used by new home buyers. Official new home sales estimates are conducted by the Census Bureau on a monthly basis. In those data, new home sales are recorded at contract signing, which is typically coincident with the mortgage application.
For additional information on the MBA Builder Applications Survey, click here.