Housing Market Roundup: Feb. 22, 2023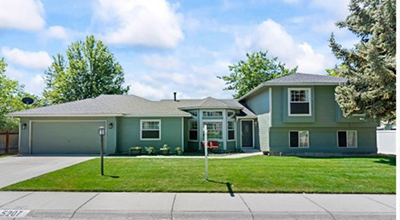 Here's a summary of recent housing industry articles that have come across the MBA NewsLink desk:
Zillow: Expect Competitive Shopping Season Despite Few Available Homes
The fast-approaching spring home shopping season should feel a bit calmer than in recent years, reported Zillow, Seattle. Shoppers can expect competition for well-priced homes, but without the crowds of buyers that packed open houses like they did in 2021 and early 2022, Zillow reported.
"Affordability will still be a challenge for many buyers this year, but sellers who price and market their home competitively shouldn't have a problem finding a buyer," said Jeff Tucker, Senior Economist with Zillow. "The slight drop in mortgage costs since October should revive demand after last fall's slump, especially in more affordable markets and neighborhoods, but we are unlikely to see competition approach the fever pitch seen in the last two years."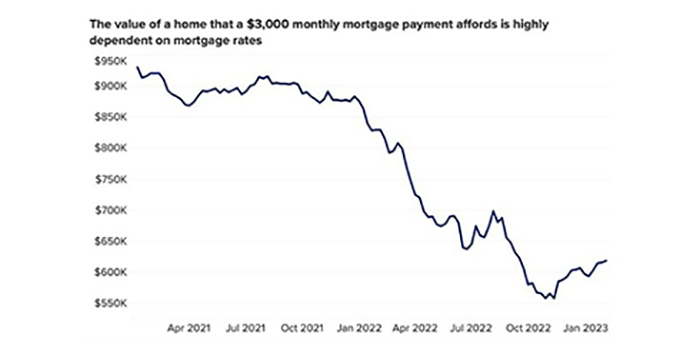 Zillow said buyers today typically spend roughly 31% of their household income on a mortgage — $1,595 a month — after a 20% down payment. That's $170 a month below the 34% of income required in October, but far above the 20%–22% they were spending in the ten years before the pandemic. The monthly cost of principal and interest was less than $900 in January 2019.
"There are as few homes for sale to start the year as there were in 2021, which, at the time, was a new record for scarcity," the report said. "But the market is far from the white-hot demand-side conditions of early 2021 and 2022, when ultra-low mortgage rates triggered bidding wars over most listings."
Auction.com: Foreclosure Volume Expected to Increase 24% in 2023
Auction.com, Irvine, Calif., released its 2023 Distressed Market Outlook report, which shows foreclosure volume is poised to continue its gradual post-moratorium rise in 2023 after plateauing in late 2022.
An Auction.com regression model with inputs of unemployment rates, home equity rates, mortgage rates, seriously delinquent mortgage rates and average days delinquent forecasts 104,000 completed foreclosure auctions nationwide in 2023. That would represent an increase of 24 percent from the projected 2022 total of 84,000 but would still be about half of the pre-pandemic level of 206,000 in 2019.
"As pandemic-era foreclosure protections gradually phased out in 2022, we saw a slowly rising tide of completed foreclosure auctions, not a massive tsunami that some might have feared," said Daren Blomquist, vice president of market economics at Auction.com. "Even with the forecasted increase of 24 percent in 2023, completed foreclosure auctions would still be at about half of their 2019 levels."
First American: Why Free-and-Clear Homeowners Hold Key to Unlocking More Housing Supply (
First American Financial Corp., Santa Ana, Calif., said the "golden handcuffs" that stymied housing supply in 2022 could be alleviated by a key demographic: the 42 percent of homeowners who own their homes free and clear.
The report said as of 2022, 84 percent of all outstanding mortgages have a mortgage rate at, or below, 5 percent and 63 percent have a rate at, or below, 4 percent. First American Deputy Chief Economist Odeta Kushi said now that mortgage rates are settling near 6 percent, there is a financial disincentive for homeowners who are locked into low mortgage rates to sell their homes and buy a new home at a higher rate.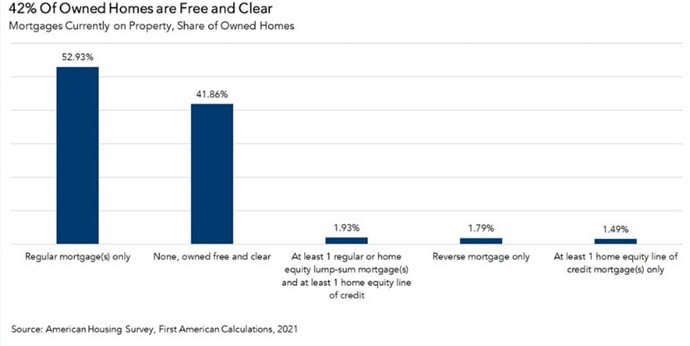 "The golden handcuffs of low mortgage rates restrict housing market turnover and limit more supply from reaching the market," Kushi said. "As a result, the average length of time that a homeowner stays in their home has reached an all-time high of over 10.5 years. However, there is a significant portion of homeowners who are immune from this effect, because they own their homes without a mortgage, otherwise known as being 'free and clear.' With higher mortgage rates deterring many rate locked-in homeowners from selling, free-and-clear homeowners may hold the key to unlocking some much-needed supply for today's housing market."
Kushi said as demand for homes starts to inch up during the traditional spring home-buying season, a key question is, will there be more inventory for those potential home buyers to buy? "Existing-home inventory makes up the bulk of available home inventory, and many existing homeowners refinanced into sub-3 percent mortgage rates over the course of the pandemic," she said. "But there's a large group of homeowners who are not deterred by higher mortgage rates—those without a mortgage on their existing home or those with a small remaining balance. These homeowners may hold the key to unlocking more supply and, in turn, more home sales."
Redfin: Housing Market Recovery Stalls As Mortgage Rates Jump
Redfin, Seattle, said its Homebuyer Demand Index fell slightly from last month as some homebuyers retreat to the sidelines as mortgage rates ascend toward 7%.
The Homebuyer Demand Index—a measure of requests for tours and other services from Redfin agents—fell 1% from a week ago, the first decline after a month of increases, and mortgage-purchase applications dropped 6%.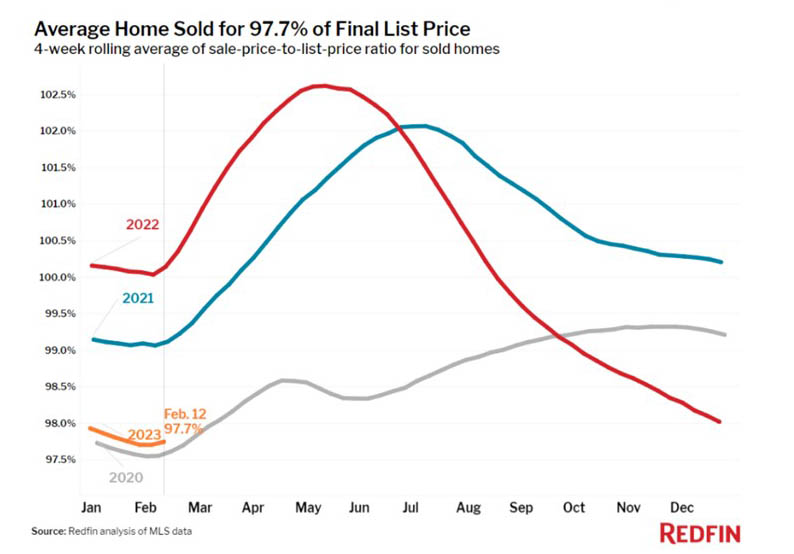 The report said persistently low inventory is also contributing to the slump in demand, as prospective sellers are also sensitive to rate hikes: 85% of mortgage holders have a rate far below 6% and many are eager to hold onto it. Although the decline in new listings of homes for sale has slowed since December, they were still down 17% from a year earlier during the four weeks ending February 12. Asking prices posted their smallest increase since the start of the pandemic (+1.2% year over year) as those who are selling homes attempt to attract buyers.
"The somewhat disappointing inflation numbers put a wet blanket on homebuyers after sub-6% rates lit a fire under them a few weeks ago," said Redfin Economics Research Lead Chen Zhao. "Inflation is cooling too slowly—and the job market and retail sales are too strong—for the Fed to ease up on interest-rate hikes, which means mortgage rates are unlikely to fall much in the next few months. That doesn't erase the progress we've made and it doesn't mean rates will soar past 7%. But it is a reminder that the housing-market recovery will remain touch-and-go until we see inflation and the overall economy improve for a longer duration."
FHA Now Accepts Electronic Submissions for All Title II Single-Family Mortgage Insurance Claim Types
The Federal Housing Administration published Mortgagee Letter (ML) 2023-04, Electronic Filing of all insurance claims on FHA Title II Single Family Mortgages. The ML eliminates paper-based filings and informs mortgagees of the digital claim submission options for all insurance benefit claims on FHA single family forward mortgages.
Mortgagees are required to file all insurance claims through the FHA Catalyst: Claims Module, FHA Connection (FHAC), or the Electronic Data Interchange (EDI) as outlined in the ML. The provisions of this ML must be implemented no later than March 1, and will be incorporated in a future version of the Single Family Housing Policy Handbook 4000.1.
For guidance on submitting claims, mortgagees should review the updated Claim Filing Technical Guide on the Single Family Housing Policy Handbook 4000.1 Supplemental Documents web page.