Dealmaker: Berkadia Completes $20.35M Sale of California Multifamily Property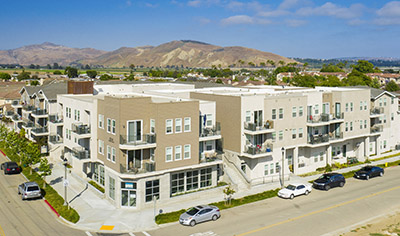 (YOLO West Apartments, Ventura, Calif.)
Berkadia, New York, sold YOLO West Apartments, a 45-unit multifamily property, plus retail stores, in Ventura, Calif.
Managing Director Adrienne Barr of Berkadia Los Angeles completed the $20.35 million sale on behalf of the seller, California-based NUWI Capital Inc., The buyer, also based in California, was Universe Holdings; the deal closed at a price of $452,222 per unit.
Located at 11114 Darling Road and built in 2019, YOLO West Apartments features one- and two-bedroom floor plans, including four live-work units, with in-unit washers and dryers and private balconies. Community amenities include a fitness center, a barbeque picnic and game area and a clubhouse. YOLO West Apartments are surrounded by views of the nearby Ventura foothills and the Topa Topa mountain range. Residents are afforded convenient access to Saticoy Regional Golf Course, Harmon Canyon Preserve, Ventura Aquatic Center, Harbor Cove Beach and the shops and restaurants along Ventura Freeway. The property is situated near two major arteries, the 101 Freeway and the 126 Freeway, allowing for access to the Ventura City Center, shopping, dining, entertainment, employment and nearby beaches.
"Investors are excited about the coastal City of Ventura," Barr said. "Ventura has experienced tremendous rent growth over the past decade. Apartment rents today in Ventura are 54.7% higher than they were 10 years ago. Moreover, Ventura is a wealthy county with strong income growth, a sophisticated workforce and a highly educated population. Thirty three percent of residents in Ventura County have a bachelor's degree or higher and the median household income in the county is $96,000, compared to the national median of $72,000. The median home price in Ventura County is around $850,000."
"This is our sixth acquisition in the City of Ventura in the past several years," said Henry Manoucheri, Chairman and CEO of Universe Holdings. "Ventura, Santa Barbara and Central California will play a big role in our growth in Southern California as we reduce our foothold in Los Angeles. We have now grown our footprint to over 574 units acquired and 52 sold and we plan to grow our presence to over 1000 units in the next couple of years."
"Given the scarcity of new development in Ventura historically, investors were attracted to the 2019 vintage of YOLO West Apartments," Barr said. "Real estate development in Ventura County is a difficult process, and as a result, apartment development tends to be scarce. Ventura County has averaged roughly 800 units actively under construction annually over the past decade as building new inventory in the coastal market is typically an onerous process. It can take a project several years to work through the entitlement process."