January Employment Data Mixed
The first two of four major employment reports this week offered a mixed bag of data, reflecting the current volatility in the U.S. jobs market.
ADP, Roseland, N.J., reported private-sector employment increased by just 106,000 jobs in January, well below previous months in which employment increased by more than 250,000. And the Bureau of Labor Statistics' January Job Openings and Labor Turnover Survey—known as JOLTS—reported a sharp jump in job openings, to the highest level since last July.
The ADP National Employment Report showed private-sector employment increased by 106,000 jobs in January; and annual pay rose by 7.3 percent year-over-year.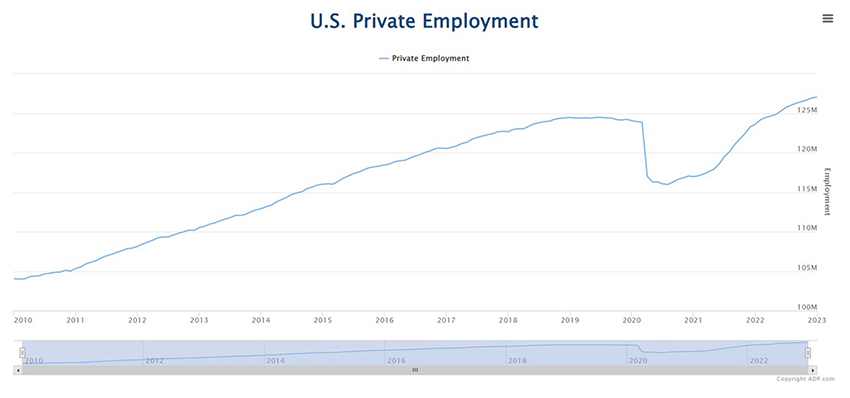 By industry sector, service-providing employers added 109,000 jobs in January (with financial services accounting for 30,000 of that number), while goods-producing employers eliminated 3,000 jobs. By company size, small establishments (1-49 employees) lost 75,000 jobs; medium establishments (50-499 employees) added 64,000 jobs and large employers added 128,000 jobs.
"In January, we saw the impact of weather-related disruptions on employment during our reference week," said Nela Richardson, chief economist with ADP. "Hiring was stronger during other weeks of the month, in line with the strength we saw late last year. Employment was soft during our Jan. 12 reference week as the U.S. was hit with extreme weather. California was coping with record floods and back-to-back storms delivered ice and snow to the central and eastern U.S."
The report said pay growth for job stayers held at 7.3 percent for the second month, with most industries little changed.
Meanwhile, BLS reported job openings increased to 11.0 million on the last business day of December, an increase of more than 572,000, to the highest level since July.
Hires and total separations changed little at 6.2 million and 5.9 million, respectively. Within separations, quits (4.1 million) and layoffs and discharges (1.5 million) changed little.
"December's sharp rise in job openings in December looks at odds with other data signaling labor demand has rolled over," said Sarah House, Senior Economist with Wells Fargo Economics, Charlotte, N.C. Openings jumped by 572K to 11.0 million, the highest level since July. However, the increase was narrowly concentrated in industries where deteriorating demand may be giving employers cold feet about filling open positions, or seasonal factors were particularly flattering. A slightly worse mix of separations, with quits edging down and layoffs ticking up, suggests the labor market continues to gradually cool."
Two more employment reports come out this week. On Thursday, the Labor Department releases its weekly Initial Claims report for unemployment insurance. And on Friday, BLS releases its monthly Employment Situation report on January job creation.
MBA Chief Economist Mike Fratantoni will provide commentary and analysis of the Friday employment report in the Monday, Feb. 7 edition of MBA NewsLink.