#MBACREF23: MBA Presents Chris LaBianca with CREF Distinguished Service Award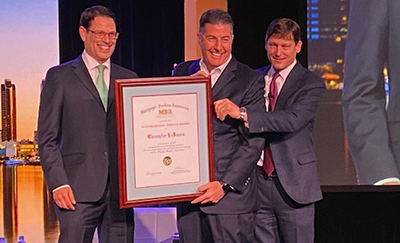 (MBA Senior Vice President Mike Flood (l) and MBA Chairman Matt Rocco (r) present Chris LaBianca with 2020 CREF Distinguished Service Award during CREF23 in San Diego.)
SAN DIEGO – The Mortgage Bankers Association presented Chris LaBianca, Managing Director with UBS Real Estate Finance, with the 2023 Commercial Real Estate Finance Distinguished Service Award at its Commercial/Multifamily Finance Convention and Expo.
"Chris has demonstrated his unwavering commitment and leadership to MBA and the commercial real estate finance industry throughout his illustrious career," said Matt Rocco, MBA 2023 Chairman and President of Colliers Mortgage. "By serving in MBA leadership roles on several councils and committees, Chris has been a leading voice and strong advocate for many top industry issues. I am thrilled to see his efforts recognized by his peers with this prestigious award."
As Managing Director of UBS Real Estate Finance, LaBianca is responsible for leading a national lending platform, which provides commercial real estate debt for execution through the bank's proprietary balance sheet. LaBianca has spent more than 30 years in the real estate debt markets with firms in the commercial banking, investment banking, and private equity space.
LaBianca was a member of the Commercial Real Estate/Multifamily Finance Board of Governors (COMBOG) from 2014-2022, serving as the 2021 COMBOG Chair and on the COMBOG nominating committee. He has also been a member of MBA's Board of Directors, served as past Chairman of MBA's Investor Council, and was a member of MBA's Investment Management Committee. He currently sits on the Commercial/Multifamily ESG Lending Committee, Commercial Council, and C-MF Senior Executive Roundtable.
Nominees for the CREF Distinguished Service Award must be associated with an MBA member firm, have a record of sustained and extraordinary service to MBA and the commercial/multifamily real estate finance industry, and possess a strong reputation of ethical and professional conduct. This award is the highest honor an individual can receive from fellow MBA CREF members.