MBA Advocacy Update Feb. 6 2023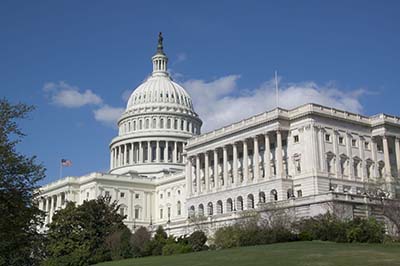 Bill Killmer bkillmer@mba.org; Pete Mills pmills@mba.org
Federal Reserve Announces Eighth Consecutive Rate Hike
The Federal Reserve in its ongoing efforts to slow inflation raised the federal funds rate by another 25 basis points to a target range of 4.50-4.75% on Wednesday.
Why it matters: The short-term rate hike marks the eighth consecutive increase since March 2022. The FOMC also indicated that more rate hikes are to come until there are signs that inflation slows and moves closer to the 2% target range.
MBA SVP and Chief Economist Mike Fratantoni noted, "While the FOMC statement noted that inflation has 'eased somewhat,' the unanimous vote of monetary policymakers to raise rates another 25 basis points – and signal that further increases are likely – indicates that markets should anticipate that the Federal Reserve will keep short-term rates higher for longer. This means rates will probably peak at about 5% in March, in the Fed's efforts to force inflation down through a marked slowdown of the economy."
For more information, please contact Mike Fratantoni at (202) 557-2935.
President Biden, House Speaker McCarthy Meet to Begin Debt Ceiling Conversation 
On Wednesday, President Joe Biden and House Speaker Kevin McCarthy (R-CA) began face-to-face debt ceiling discussions, with the latter expressing cautious optimism that the two sides can come to a deal to avoid the first-ever default on the nation's debt obligations. The meeting at the White House came as House Republicans have said they want a two-year budget agreement to cut government spending in exchange for voting to increase the borrowing limit (no specific cuts have been outlined yet). The White House has insisted there will be no negotiating on the debt limit and that Congress should raise it without conditions.
Why it matters: Last month, the U.S. reached its statutory debt limit of roughly $31 trillion. Should the debt limit not be increased, the government could begin to miss payments to bondholders, Social Security recipients, veterans and others, and default on its obligations (though opinions vary on alternative policy options that could be taken should that occur). Such an event could send financial markets into a tailspin and produce higher borrowing costs. Given the more than $10.3 trillion in mortgage debt backed by the federal government through Fannie Mae, Freddie Mac, Ginnie Mae, and other federal agencies, the housing and real estate markets are particularly susceptible to any resulting instability.
What's next: MBA and our real estate coalition partners will undoubtedly be asked – by both the White House and key lawmakers – to engage on this highly-charged topic. The Treasury Department has indicated it can continue taking "extraordinary measures" to meet U.S. obligations up until early June.
For more information, please contact Bill Killmer at (202) 557-2736.
Several Key House Committees Officially Organize for 118th Congress; Senate Banking Committee Adds New Members
Last week the House Financial Services and Ways and Means Committees completed organizational markups that adopted rules and oversight plans for both panels, as well as formally adopting the roster for both full committees and all subcommittees. The roster for Republican and Democratic subcommittee assignments can be found here . Although the Senate committees have not yet been formally organized, announcements were made regarding changes to the Banking Committee roster, including the departure of Sen. Jerry Moran (R-KS) and the addition of Sens. J.D. Vance (R-OH), Katie Britt (R-AL), and John Fetterman (D-PA). At the time of this writing, the full Senate had begun the process of debating approval of its organizing resolution.     
Why it matters: Organizational markups are required to officially set rosters before committees can commence with other business – including legislative markups and oversight/topical hearings.
What's next: The House committees have already announced a slew of hearings in the coming weeks, and the timing of the Senate organizational markups is expected to occur next week.
For more information, please contact Alden Knowlton at (202) 557-2741, Borden Hoskins at (202) 557-2712, Tallman Johnson at (202) 557-2866 or Ethan Saxon at (202) 557-2913.
Senators Introduce Legislation to Encourage Tribal Homeownership
​On January 25, Sens. John Thune (R-SD), Tina Smith (D-MN), Mike Rounds (R-SD) and Jon Tester (D-MT) introduced the Tribal Trust Land Homeownership Act, a bipartisan bill that would create statutory timelines within which the Bureau of Indian Affairs would be required to process and approve mortgages involving property located on tribal trust lands.
Why it matters: Mortgages involving property on tribal trust land must currently be reviewed and approved by the BIA for the mortgage to be finalized. The legislation, identical to a bill from the prior Congress, would reduce or eliminate BIA processing delays, thereby encouraging more lenders to participate in trust land mortgage lending.
What's next: MBA remains engaged with Senate offices to advance the bill through the committee process and onto the Senate floor for a vote.
For more information, please contact Ethan Saxon at (202) 557-2913 or Tallman Johnson at (202) 557-2866.
FHA Extends COVID-19 Loss Mitigation Options
​On Monday, the Federal Housing Administration issued a Mortgagee Letter (2023-02) to expand COVID-19 loss mitigation options for FHA borrowers . FHA's updated policy extends the COVID-19 Recovery Loss Mitigation Options to all eligible borrowers, regardless of the reason for financial hardship. FHA's COVID-19 Recovery Options may be offered to borrowers no later than October 30, 2024, and completed no later than February 27, 2025. 
Why it matters: FHA's update includes several key policy priorities that MBA has advocated for throughout the pandemic, including the ability for servicers to recover incentives for completing loss mitigation options, and increasing the amount of the allowable partial claim to the statutory maximum of 30% of the unpaid principal balance, up from 25%. Expanding FHA's loss mitigation toolkit will provide additional opportunity for borrowers in today's high-interest rate environment to resolve their financial hardship and remain in their homes.
What's next: ML 2023-02 may be implemented immediately but no later than April 30, 2024. Although FHA's policy is temporary, it is a step in the right direction in permanently preserving some of the critical relief tools developed during the pandemic. MBA's Loan Administration Committee Advisory Group will complete a deeper dive and discuss the potential impact of the Mortgagee Letter on February 13, 2023.
For more information, please contact Brendan Kelleher at (202) 557-2779.
USDA Proposes Amendments to the Mortgage Recovery Advance
​Last Friday, the U.S. Department of Agriculture's Rural Housing Service issued a proposed rule amending its Mortgage Recovery Advance (i.e., MRA/partial claim) regulations. Like FHA's partial claim, USDA's existing regulations require mortgage servicers to advance corporate funds to resolve a borrower's delinquency in exchange for claim funds up to 30% of unpaid principal balance. In return, borrowers execute a non-interest bearing second lien (i.e., subordinate mortgage and promissory note) to repay the USDA at payoff, refinance, or maturity. USDA's proposed rule would eliminate the MRA as a subordinate second lien and instead allow borrowers to remit funds to the servicer under the first lien mortgage.
Why it matters: USDA's proposed rule would formalize procedures that have been operationalized for participating servicers active in USDA's current pilot program. Eliminating the second lien requirement would further align default loss mitigation standards across the agencies, reduce costs, and eliminate unnecessary administrative burdens for borrowers and servicers.
What's next: Comments are due March 28. MBA's Loan Administration Committee will gather to formulate a response by the deadline. 
For more information, please contact Brendan Kelleher at (202) 557-2779.
MLO Remote Work Legislation Introduced in Two Additional States
​As 2023 state legislative sessions get fully underway, MBA's campaign to make permanent the licensing flexibilities provided by regulators during the pandemic continues. Currently, 21 states and the District of Columbia have through law, regulation, or affirmative policy statement permitted mortgage loan originators (MLOs) to work from somewhere other than a licensed location. This year, legislation has been introduced in Virginia (HB-2389) and Montana (HB-30, Section 7 on page 5) and has already received initial committee votes of approval.
Why it matters: Both state bills follow the contours of the MBA model law and regulation for MLO remote work, and are supported by their respective state associations partners, the Virginia MBA, and the Montana Mortgage Association.
What's next: MBA will continue to work with state and local partner associations and state regulators to create these licensing flexibilities in states that mandate that MLO's work from a licensed location.
For more information, please contact William Kooper (202) 557-2737 or visit the MBA resource center: www.mba.org/LicensingFlexibility.
Register Today for MBA's mPact Summit Mar. 7 
​On March 7, mPact, MBA's network for young professionals, will host its first mPact Summit in Plano, Texas. Join an exclusive group of young professionals from both the residential and commercial/multifamily real estate finance sectors for a day of career development and industry programming. Young professionals have selected the sessions and developed networking opportunities with senior leaders for this inaugural event.
Why it matters: Event topics include developing leadership skills, learning how to navigate your career, and building and practicing networking skills. You won't want to miss this opportunity.
What's next: Registration is capped at 100 participants and closes on February 27. Register now.
For more information, please contact Jacky Salazar at (202) 557-2746
Upcoming MBA Education Webinars on Critical Industry Issues
MBA Education continues to deliver timely programming that covers the spectrum of challenges, obstacles and solutions pertaining to our industry. Below, please see a list of upcoming webinars – which are complimentary to MBA members:
MAA Quarterly Webinar: February 2023 – February 7
Home Equity Lending: An Assessment of Today's Market Landscape & Cashout Opportunities – February 9
Five Steps to Improve Efficiency, Compliance and Automation in Your Mortgage Operations – February 16
Single Family Rental Remains Resilient – February 23
Market Recommendations and Profitability Insights for 2023 – February 28
MBA members can register for any of the above events and view recent webinar recordings. For more information, please contact David Upbin at (202) 557-2931.