STR: Labor, Energy Costs Top Hospitality Industry Challenges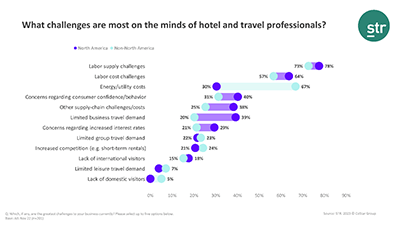 (Courtesy STR, Hendersonville, Tenn.)
Labor-related issues and energy costs rank highest among the challenges facing the hotel sector, reported STR, Hendersonville, Tenn.
Leisure demand and increased guest spending are the biggest strengths, STR said in its Hospitality Industry Sentiment survey.
"While respondents cited similar challenges around the globe, professionals in North America indicated that labor supply and cost challenges were number one on their list," said Brannan Doyle, Research Analyst with STR. "Respondents outside of North America, however, were more likely to note that energy and utility costs were a major concern for their business."
Doyle noted the survey group expressed trepidation for the overall economy, "including recessionary headwinds, interest rates, inflation and depreciation of the U.S. dollar as well as limited flight availability and higher airfares," he said.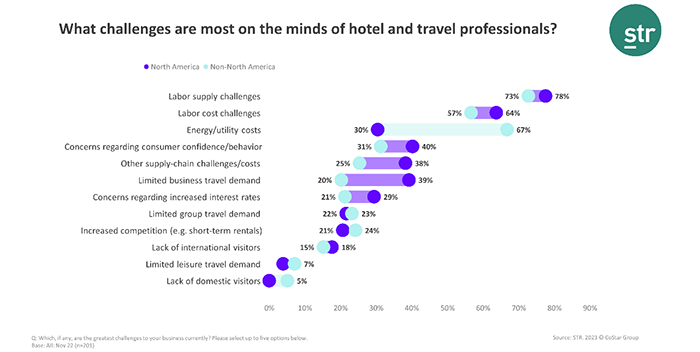 Survey respondents also weighed in on strengths, nothing that "surging" leisure demand and increased guest spending have boosted their business.
"Over a third of respondents noted 'bleisure' travel as a positive dynamic to their business," Doyle said, referring to a growing trend of travelers adding some leisure time to their business trips. "Other notable boosts included the chance to perform property renovations, lifts in hotel rooms rates and the possibility of travel price inflation easing in 2023."
Doyle said one-third of survey respondents reported they expect to meet or surpass 2019 hotel occupancy levels this quarter and nearly half–46%–said they anticipate achieving that goal by year-end.