(#MBAServicing23) Government Agencies Stress Flexibility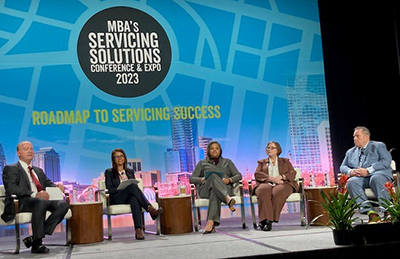 ((l-r) MBA Chairman-Elect Mark Jones with Ingrid Ripley, Alanna McCargo, Julia Gordon and John Bell III Wednesday at MBA Servicing23.)
ORLANDO—Representatives of government agencies here at the Mortgage Bankers Association's Servicing Solutions Conference & Expo stressed their agility in addressing key issues facing mortgage servicers.
Ingrid Ripley, Executive Director for Single-Family Housing Guaranteed Loan Program with USDA Rural Housing Service, said the coronavirus pandemic illustrated the ability of government agencies to react quickly to changing landscapes.
"We all face the same kind of issues," Ripley said. "We all came together during COVID to make things not only for our customers, but also lenders and servicers. We tried to be as consistent as possible, even though we all do our programs a bit differently. We were able to help so many of our customers."
Julia Gordon, Assistant Secretary for Housing and FHA Commissioner, emphasized that government agencies know the mortgage servicing industry better than ever.
"I don't recall a situation in which both the President of Ginnie Mae [Alanna McCargo] and the FHA Commissioner both have mortgage servicing experience," Gordon said. "We know that you're our arms and legs in the industry and servicing is hard."
"No one anticipated we'd come out of the COVID pandemic and be in this high-inflation market," McCargo said. "We are working to ensure that borrowers who need servicing assistance are getting that assistance, and that we are providing programs that ensure liquidity during this period."
"We're looking to work diligently to help our veterans who are experiencing issues to have a soft landing," said John Bell III, Executive Director of the Department of Veterans Affairs. "Some of those things we can do from a policy standpoint; some of those things we can do from a regulatory standpoint."
McCargo noted that Ginnie Mae insures 70 percent of VA loans. "We've had a lot of interest from issuers about these and other programs," she said.
FHA yesterday announced a 30 basis-point reduction in FHA mortgage insurance premiums (see related story in today's MBA NewsLink). Gordon said this builds on several other steps FHA has taken over the past year:
–In September 2022, to make it easier for first-time homebuyers to qualify for affordable FHA-insured mortgage financing, FHA implemented changes to its underwriting policies to permit lenders to use positive rental history as an additional factor in evaluating an applicant's creditworthiness for an FHA-insured mortgage. This change makes FHA's credit evaluation more comprehensive and equitable and supports expanded access to homeownership for first-time homebuyers transitioning from renting.
–In June 2022, HUD's Office of Housing launched new online and telephonic search capabilities to significantly increase consumers' ability to locate and seek assistance from more than 1,500 HUD-approved housing counseling agencies and the 4,000 HUD-certified housing counselors they employ. The tools are used by more than 3,000 consumers on average each day to obtain housing counseling assistance for topics that include homeownership, financial literacy and planning, rental housing, foreclosure avoidance and eviction prevention, reverse mortgages, and housing stability. The telephonic search capability offers translation services in more than 250 languages.
–In June 2021, FHA announced updates to its student loan monthly payment calculations to remove barriers and provide more access to affordable single-family FHA-insured mortgage financing for creditworthy individuals with student loan debt. The new policy more closely aligns FHA student loan debt calculation policies with other housing agencies by basing the monthly payment on the actual student loan payment, which is often lower, and helps home buyers with student debt to meet minimum eligibility requirements for an FHA-insured mortgage.
Gordon said FHA will continue to work on modernizing technology. "We are not a free-standing company," she said. "We get our funding from Congress, and we are subject to roadblocks. It is hard and it is slow, but we are committed to FHA Catalyst and all the programs we provide at FHA."
Ripley noted that, being smaller than the other agencies, "we are a bit more nimble and flexible…we are looking for partnerships and other arrangements so that we can continue to serve or borrowers and you."