(#MBAServicing23) FHA Announces 30bp Reduction in Mortgage Insurance Premiums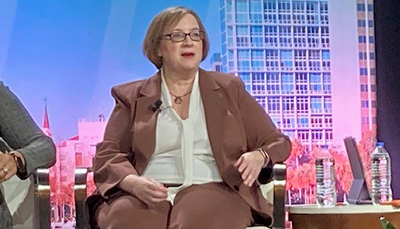 (FHA Commissioner Julia Gordon announces reduction in FHA mortgage insurance premiums at MBA Servicing Solutions Conference & Expo Wednesday in Orlando.)
ORLANDO–The Federal Housing Administration announced here at the MBA Servicing Solutions Conference & Expo that it will reduce the mortgage insurance premiums it charges home buyers for its mortgage insurance.
HUD said the 30 basis point reduction is expected to save FHA borrowers nearly $800 per year, and possibly more for those with higher loan amounts.
"We did a great deal of thought and analysis to come up with a number that is meaningful for borrowers and still prudent for the program," said Julia Gordon, Assistant Secretary for Housing and FHA Commissioner. "This gives them a little bit of room to deal with inflation, or who might be on the homeownership bubble."
The announcement was met with applause from the 1,400 mortgage servicers here at Servicing23.
MBA President & CEO Robert Broeksmit, CMB, issued a statement praising the decision.
"MBA thanks HUD Secretary Fudge and FHA Commissioner Gordon for reducing mortgage insurance premiums for FHA loans, a move we have strongly encouraged since 2021.The lower premiums will expand homeownership opportunities by lowering mortgage payments for qualified FHA borrowers, providing critical relief from the steep rise in mortgage rates and home prices just in time for the spring buying season. This will especially help minority homebuyers and low-and moderate-income households who are predominantly served by FHA loans.
Broeksmit noted the Mutual Mortgage Insurance Fund is strong, with low delinquencies and a capital reserve ratio several times above the statutory minimum. "Ensuring a robust FHA program that protects taxpayers and offers affordable homeownership opportunities for families in underserved communities is important, and we will work with the Biden administration and Congress on policies that have the greatest impact on borrower affordability and sustainability," he said.
HUD noted the median home price in the United States as of the fourth quarter was $467,700, meaning that HUD's action would save a buyer at this price point more than $1,400 a year. It said total, the reduction will help low- and moderate-income Americans save an estimated $600 million in the next year alone, and many billions over the next decade.
Link to HUD Mortgagee Letter 2023-05: https://www.hud.gov/sites/dfiles/OCHCO/documents/2023-05hsgml.pdf.