Housing Market Roundup: Feb. 17, 2023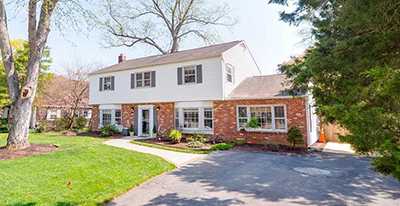 Here's a quick summary of recent housing market stories that have come across the MBA NewsLink desk:
Redfin: Investors Buying Half as Many Homes from Year Ago
Redfin, Seattle, said investor purchases of U.S. homes fell a record 45.8% year over year in the fourth quarter as the high cost of borrowing money and the prospect of substantial home-price declines made real estate investing less attractive.
The second biggest decline occurred in 2008, when investor purchases slumped 45.1% during the subprime mortgage crisis. Overall U.S. home purchases fell 40.8% from a year earlier in the fourth quarter.
The report said investor purchases slumped 27% on a quarter-over-quarter basis, the largest quarterly decline on record aside from the beginning of the pandemic. That's comparable with the 28.1% quarterly drop in overall home purchases.
However, the report noted while many investors have pumped the brakes on homebuying, investor market share has remained fairly steady. That's because individual homebuyers have also pulled back. Investors purchased 17.8% of all homes that were bought in the metros tracked by Redfin in the fourth quarter. That's comparable with 17.6% in the prior quarter and down from 19.4% a year earlier. In dollar terms, investors bought $31 billion worth of homes in the fourth quarter, down 42.7% from $54.1 billion one year earlier and down 27.5% from $42.8 billion one quarter earlier. The typical home investors purchased cost $425,926, little changed from one year earlier but down 5.8% from one quarter earlier.
Zillow: Renters Pay 'Singles Tax' of $7,000 for Living Alone
"Roses are red, violets are blue, if you're single and rent, more money is due." That's the takeaway from an analysis by Zillow, Seattle, which found renters living in a one-bedroom on their own face a yearly "singles tax" of nearly $7,000.
While singles across the country pay a high price for a solo living arrangement, the size of that "tax" varies widely depending on where they live. The price of living alone in a one-bedroom apartment is the highest in New York City, where StreetEasy data finds that singles pay $19,500 more a year than someone living with a partner in the same place. This rises to nearly $24,000 in Manhattan, the priciest borough. San Francisco isn't too far behind with a $14,000 "singles tax" for a one-bedroom apartment.
Of the 50 largest U.S. cities (by population), Detroit and Cleveland have the lowest "singles tax" at $4,483 and $4,387 respectively.
The report noted singles can avoid this "tax" by taking in roommates. The report found that cohabitating renters in the U.S. save a collective $14,000 annually, compared to renters living alone. Couples in more expensive cities can save even more, with the discount reaching up to $39,000 in New York City.
Survey: 1 in 5 Americans Plan to Buy Home in 2023, But…
A survey of more than 1,000 Americans by CraftJack.com, Evansville, Ill., found one in five Americans plan to buy a home in 2023, but 61% cannot currently afford to buy a home.
Nearly 1 in 3 Americans plan on moving in 2023, with 48% staying close to where they are, and 28% moving out of state or internationally.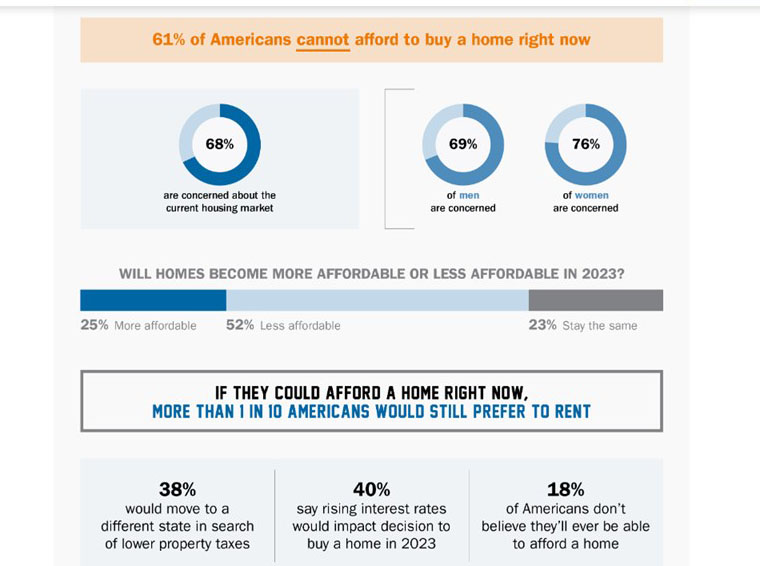 Of the 1 in 5 are planning on buying a home in 2023; 30% are first-time home buyers, while others are upgrading (22%), buying property as an investment opportunity (20%), or downsizing (13%). For those searching, the top tools for finding a home include Zillow, a real estate agent, and Google. 1 in 3 are looking for homes in the suburbs and 56% are looking for a single-family home.
The survey also found more than 1 in 6 Americans expect their first home to be their dream home, and 46% of Americans are willing to go over budget to buy their dream home – by a whopping $84,500.
However, the survey also noted while many Americans eagerly look forward to buying a home in 2023, others simply can't or don't want to. Top deterrents include sky-high mortgage rates, followed by location, property taxes, crime rate, and the overall uncertainty of the housing market. Of those looking to sell, more than 1 in 10 are worried they won't even be able to sell their homes. For 61% of Americans, homes are too expensive.
The housing market continues to be a huge variable in homeownership for many Americans. Nearly 1 in 2 (48%) are worried about a housing market crash and 2 in 5 fully believe that a crash will happen in 2023. Top contributing factors to this potential crash include inflation (45%), the looming recession (34%), and a housing bubble bursting (31%). Happily, 41% believe this crash won't be as brutal as 2008, though 30% believe it will be the same and 29% think it will be worse.