STR, TE Lower Hotel Growth Forecast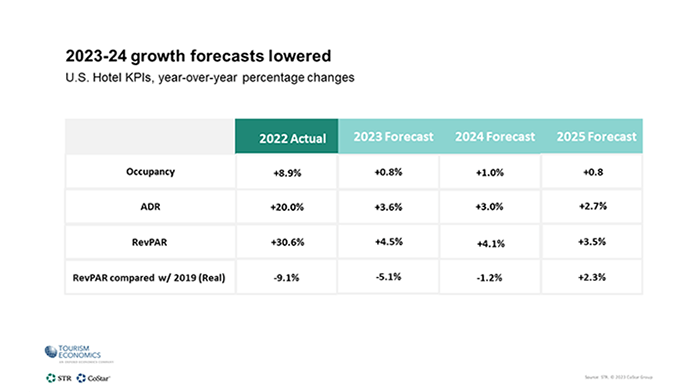 (Chart courtesy of STR)

STR, Hendersonville, Tenn., and Tourism Economics, Wayne, Pa., lowered their year-over-year growth projections in a revised 2023-24 U.S. hotel forecast.
The firms lowered their 2023 growth in revenue per available room forecast by 0.5 percentage points, due to a 0.6 percentage point downgrade in projected occupancy growth. "While that RevPAR growth remains above the long-term historical average, most of the increase was frontloaded to the early portion of the year," the report said. For 2024, the RevPAR growth projection was also lowered 0.5 percentage points on a 0.5 percentage point downgrade in occupancy. The average daily rate was upgraded 0.1 percentage points for 2023 but held flat for 2024.
"We brought down our growth projections with the industry in a period of normalization," STR President Amanda Hite said. "Last quarter, demand underperformed projections in the luxury segment with travelers pulling back on their leisure spending or opting for overseas trips, as well as the midscale and economy portion of the market due to recessionary effects."
Hite noted conflicting signs of economic slowdown and the impact on consumer sentiment but said hoteliers remain optimistic, "especially those in the middle-to-higher end of the market," she said. "A lot of the normalization we have seen in the data supports that optimism with a steady uptick in business travel and continued improvement in the major markets. ADR growth rates have moderated as the impacts of inflation and record-breaking leisure travel have waned, but our forecasted growth rates are still skewed toward the upper-end hotels with a rate-focused performance strategy."
Aran Ryan, director of industry studies at Tourism Economics, said the U.S. economy has remained resilient, but added that the cumulative effects of past interest-rate hikes by the Federal Reserve and banks dialing back on lending will likely contribute to a mild recession later this year. "The impact of this slowdown on lodging demand will be limited, as group and business travel activity rebuilds, international visitors return, and leisure travelers continue to find room in household budgets to prioritize travel," he said.
The STR/TE forecast said hotel profit growth will likely be limited in 2023 with slight improvement expected for 2024.