CoreLogic: Annual Home Price Growth Continues Single-Digit Slide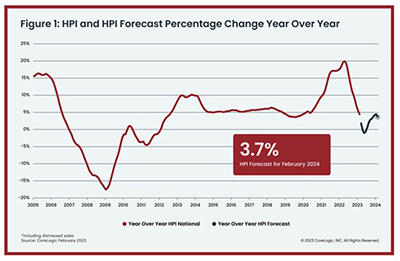 CoreLogic, Irvine, Calif., said while annual U.S home price growth rose for the 133rd straight month in February, the 4.4% increase was the lowest recorded since 2019.
The company's monthly Home Price Index and HPI Forecast for February also reported eight states and districts recorded annual home price losses, with much of the depreciation seen in the relatively expensive Western U.S., including California, Idaho, Oregon, Washington and Utah.
The report said tech company layoffs have likely affected housing demand on the West Coast, However, as noted in the latest CoreLogic S&P Case-Shiller Index, home prices gains are holding steady in some large East Coast metros, as workers return to offices and buyer demand renews in areas that saw relatively less appreciation during the pandemic. Areas in the Southern U.S. are also holding up well given current market conditions.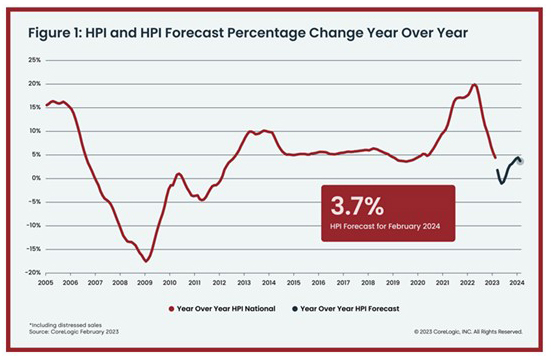 "The divergence in home price changes across the U.S. reflects a tale of two housing markets," said Selma Hepp, chief economist with CoreLogic. "Declines in the West are due to the tech industry slowdown and a severe lack of affordability after decades of undersupply. The consistent gains in the Southeast and South reflect strong job markets, in-migration patterns and relative affordability due to new home construction."
Hepp noted housing market challenges remain, particularly in light of mortgage rate volatility and the ongoing banking turmoil. "Pent-up homebuyer demand is responding favorably to lower rates in many markets," she said. "This trend holds true even in the West, leading to a solid monthly gain in home prices in February. U.S. home prices rose by 0.8% in February, double the month-over-month increase historically seen and indicating that prices in most markets have already bottomed out."
Other report takeaways:
–U.S. home prices (including distressed sales) increased by 4.4% year over year in February. On a month-over-month basis, home prices increased by 0.8% from January.
–Annual appreciation of attached properties (5.4%) was 1.4 percentage points higher than that of detached properties (4%).
–CoreLogic forecasts show annual U.S. home price gains slowing to 3.7% by February 2024.
–Miami posted the highest year-over-year home price increase of the country's 20 tracked metro areas in February, at 15.6%, while Tampa, Florida continued to rank second at 9.3%.
–Florida and Maine recorded the highest annual home price gains, 11.3% and 10.3%, respectively, followed by South Carolina at 9.2%. Eight states and districts recorded annual losses: Washington (-4.9%), Montana (-3.1%), Nevada (-1.7%), Idaho (-1.6%), Utah (-1.6%), California (-1.5%), Washington, D.C. (-1.2%) and Oregon (-0.7%),