With Homeowners Sitting, Buyers Turn to New Homes
March new home sales jumped by nearly 10 percent from February, HUD and the Census Bureau reported Tuesday, as home buyers turned away from existing home sales.
The report said sales of new single‐family houses in March rose to a seasonally adjusted annual rate of 683,000, 9.6 percent higher than the revised February rate of 623,000. From a year ago, however, sales remained off by 3.4 percent from the March 2022 estimate of 707,000.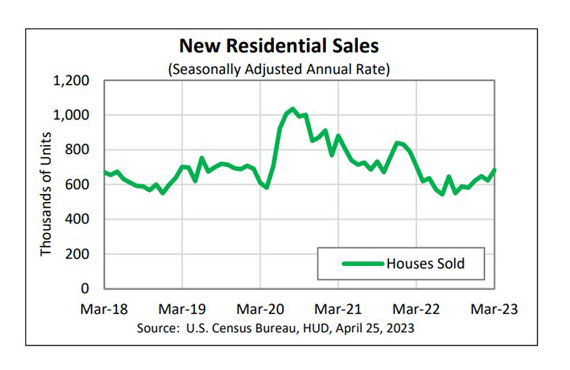 Regionally, sales were mixed, with the largest region, the South, reporting a 5.4 percent drop in sales to 386,000 units in March, seasonally annually adjusted, from 408,000 units in February. From a year ago, sales in the South fell by 3.3 percent.
Elsewhere, the news was positive. In the West, sales jumped by nearly 30 percent in March to 161,000 units, seasonally annually adjusted, from 124,000 units in February but fell by 9 percent from a year ago. In the Midwest, sales rose by 6 percent in March to 71,000 units from 67,000 units in February but fell by 11.3 percent from a year ago. In the Northeast, sales jumped by nearly tripled in March to 65,000 units from 24,000 units in February and rose by 27.5 percent from a year ago.
"Plentiful inventory and builder incentives continue to draw homebuyers," said Jackie Benson, Economist with Wells Fargo Economics, Charlotte, N.C. "March marked the third increase in the last four months and the highest sales pace recorded since March 2022."
Benson said higher mortgage rates has made homeowners hesitant to list their homes and trade up to higher rates, forcing many homebuyers to turn to new construction. She noted new homes comprised 33.2% of total single-family housing inventory in March, nearly double the 17.8% average in the year before the pandemic.
The median sales price of new houses sold in March rose to $449,800; the average sales price was $562,400. The seasonally adjusted estimate of new houses for sale at the end of March fell to 432,000, representing a supply of 7.6 months at the current sales rate.