MBA Advocacy Update Apr. 24, 2023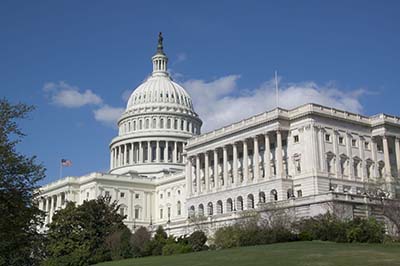 Bill Killmer bkillmer@mba.org; Pete Mills pmills@mba.org
MBA 2023 National Advocacy Conference
Last week, more than 400 state/local leaders and rank-and-file MBA members assembled in Washington to meet elected officials and key congressional staffers on Capitol Hill. Thanks to the MBA advocacy team's efforts, members were able to hear directly on Tuesday from key thought leaders such as Congressman Warren Davidson (R-OH), who chairs the House Financial Services Subcommittee on Housing and Insurance, and House Democratic Campaign Committee Chair (and key House Ways and Means Committee member) Suzan DelBene (D-WA). Additionally, Senators Catherine Cortez Masto (D-NV) and Shelley Moore Capito (R-WV) were part of a spirited, bipartisan mPower panel. Attendees also met with more than 50 other lawmakers and senior congressional staffers at MBA's Tuesday night reception at the Smithsonian's National Museum of African American History and Culture.   
Why it matters: Industry members from 39 states were able to conduct 265 meetings with individual House and Senate offices on a full range of key policy themes, including:
eliminating "trigger lead" abuses while preserving its use in appropriately limited circumstances;
highlighting concerns with the proposed FHFA changes to the GSEs' loan-level price adjustments (including the proposed DTI component);
increasing the supply of affordable housing – both multi- and single-family;
outlining operational challenges with FHA multifamily mortgage insurance programs; and,
explaining the state of the mortgage market in their communities and areas of operation.
What's next: MBA staff will assimilate the member feedback received from these NAC office visits and continue to advocate for the key policy priorities emphasized during the conference.
For more information, please contact Bill Killmer at (202) 557-2736.
MBA State and Local Workshop; Provides Empowerment Tools to Partner Associations
Last week, state and local real estate finance association leaders from more than 40 associations (including Hawaii and Alaska) traveled to Washington to learn from each other and share operational best practices at MBA's State and Local Workshop. Attendees engaged in panel sessions and open discussion on strategies to enhance their advocacy effectiveness and build member value. 
Why it matters: The industry's 115 independent state and local associations are essential to advancing real estate finance interests that benefit the industry and consumers. Their robust actions have led to an impressive string of recent accomplishments, including remote online notarization (RON) – now passed in 43 states and the District of Columbia, entity-level Gramm-Leach Bliley exemptions from data protection bills, and permanently allowing mortgage loan originators to work from a remote location, which is now permitted in 24 states (and D.C.).
What's next: MBA will continue to convene its state partners to carry on the exchange of ideas and is already surveying this year's participants for their feedback to begin planning next year's Workshop on March 18-19, 2024.
For more information, please contact William Kooper (202) 557-2737 or Anthony Siller (202) 557-2944.
"Trigger Leads" Legislation Re-Introduced in U.S. House
Last week, Rep. Ritchie Torres (D-NY) re-introduced H.R. 2656, legislation which would amend the Fair Credit Reporting Act (FCRA) to prohibit the creation and sale of trigger leads by ensuring that no consumer reporting agency is able to provide a consumer report in connection with a credit transaction that is not initiated by the consumer. As a RESBOG priority, MBA continues to work with a bipartisan set of policymakers and stakeholders to address trigger lead abuses, while seeking to preserve the legitimate use of trigger leads in very limited circumstances (such as communicating with existing customers).     
Why it matters: In over 260 meetings with individual House and Senate offices this week, NAC attendees explained to policymakers the potential consumer harm related to trigger leads and companies that use them to misrepresent themselves, attempt to confuse or deceive recent applicants, or inundate them with phone calls or direct mail.
What's next: MBA will continue its ongoing dialogue with the bill's sponsor and policymakers on both sides of the aisle to explore legislative reforms to stop unwanted harassment of consumers and maintain a well-functioning market.
For more information, please contact Alden Knowlton at (202) 557-2816.
Urban Institute Publishes Report on Mortgage Lending to LMI and Minority Neighborhoods and Borrowers
Last week, the Urban Institute published a report, "An Assessment of Lending to LMI and Minority Neighborhoods and Borrowers," that highlights how independent mortgage bank lenders are leading the market in serving LMI and minority borrowers and communities. On the heels of February 2022 Urban Institute research on bank and nonbank lending to minorities, MBA asked the Urban Institute to use the same methodology with updated 2021 Home Mortgage Disclosure Act data, to extend the analysis to key states, and to cover lending to low- and moderate-income borrowers and communities.
Why it matters: Urban compared lending by IMBs, banks (who are subject to the Community Reinvestment Act) and credit unions. The report reveals that IMBs – even without CRA – lead the market in lending for home purchases to LMI communities and borrowers and to minority borrowers and "predominantly" minority areas (70% or more minority). Urban's analysis is robust at both the national level and across virtually all of the states covered by that of the research.
What's next: The Urban Institute's research serves as a caution to federal and state policymakers who think shrinking the IMB market share is a good policy objective on its own and provides more solid evidence that IMBs already lead the mortgage market in sustainable lending to LMI borrowers and communities. MBA believes proposals that apply CRA mandates to IMBs are ineffective and misguided, as IMBs do not have deposits to reinvest and do not have access to direct government support. MBA will continue to work with its state and local partners to oppose the application of CRA regimes to IMBs.
For more information, please contact Pete Mills at (202) 557-2878.
Senators Reintroduce RON Legislation During MBA's National Advocacy Conference Hill Day
As MBA members converged in-person for NAC, Senators Mark Warner (D-VA) and Kevin Cramer (R-ND) reintroduced the SECURE Notarization Act (S.1212), a top MBA legislative priority. Identical to last year's legislation, the bill would permit the nationwide use of RON, applying transactional freedom to the flow of essential real estate closing activities. A link to the Senators' press release that included a supportive quotation from MBA can be found here.
Why it matters: A direct result of MBA's advocacy, the bill's minimum standards for RON are consistent with those provided in the MBA-ALTA model state RON bill and the Mortgage Industry Standards Maintenance Organization's RON standards.
What's next: In February, the U.S. House of Representatives passed the SECURE Notarization Act by voice vote. MBA and our coalition partners will continue to advocate for consideration of the Senate companion bill.
For more information, please contact Ethan Saxon at (202) 557-2913 or Tallman Johnson at (202) 557-2866.
MBA Offers Improvements to HUD's 203(k) Rehabilitation Program
Last Friday, MBA responded to the HUD Request for Information regarding barriers to the use of the FHA 203(k) Rehabilitation Mortgage Insurance Program. Based on feedback from MBA members, the letter highlights specific improvements that would make the program more appealing to borrowers and lenders alike, including increasing the cap on "Limited" 203(k) mortgages, increasing accessibility to consultants, and amending the programs initial draw requirements. 
Why it matters: Improving financing options for the rehabilitation of existing housing stock is a key recommendation in the Biden Administration's Housing Supply Action Plan. With the recommended changes, MBA believes the 203(k) Rehabilitation Mortgage Insurance Program can be expanded to increase affordable housing supply by revitalizing the country's aging housing stock, particularly for low- and moderate-income households.
What's next: MBA will continue to work with FHA leadership on this issue and others pertaining to the FHA program.
For more information, please contact Darnell Peterson at (202) 557-2779.
Secretary Fudge Testifies Before House & Senate Appropriations Committees
On Tuesday and Thursday, the House and Senate Appropriations Subcommittees on Transportation, Housing and Urban Development, and Related Agencies (T-HUD) held hearings to examine President Joe Biden's fiscal year 2024 budget. HUD Secretary Marcia Fudge highlighted priorities within the $73.3 billion budget request and defended FHA's decision to reduce annual mortgage insurance premiums (MIP) for new borrowers. MBA submitted an FY 2024 appropriations request letter, which can be found here. A summary of the hearings can be found here and here. 
Why it matters: Fudge mentioned the need for a new $15 million credit subsidy for a FHA Small Balance Mortgage demonstration program, a $100 million set aside under the HOME Program for downpayment assistance for first-generation and/or low-income first-time homebuyers, and for additional administrative funds for Ginnie Mae.
What's next: The House and Senate will need to each set the top line level of appropriations for FY 2024 so that the committees can allocate the specific funds requested by HUD. This decision will likely be deferred until after the debt ceiling is addressed. Absent any agreement, a continuing resolution is expected to fund the government into the next fiscal year.
For more information, please contact Ethan Saxon at (202) 557-2913 or Tallman Johnson at (202) 557-2866.
Senate Banking Committee Holds Nominations Hearing
On Tuesday, the Senate Banking Committee held a hearing to consider the following nominations: Jared Bernstein to be Chairman of the Council of Economic Advisers, Executive Office of the President; Ron Borzekowski to be Director of Financial Research, Department of the Treasury; Solomon Greene to be an Assistant Secretary of Housing and Urban Development, Department of Housing and Urban Development; and  David Uejio, to be Assistant Secretary of Housing and Urban Development, Department of Housing and Urban Development. A summary of the hearing can be found here.
Why it matters: Uejio was renominated to serve by President Biden after failing to be confirmed last Congress.
What's next: The Committee will seek to schedule a vote on the nominees.
For more information, please contact Ethan Saxon at (202) 557-2913 or Tallman Johnson at (202) 557-2866.
FHFA Proposes Fair Housing and Fair Lending Rule
This week, the Federal Housing Finance Agency announced it is seeking comments on a proposed rule regarding fair housing and fair lending oversight of its regulated entities, Fannie Mae and Freddie Mac and the Federal Home Loan Banks. The proposed rule would codify many of the Agency's existing practices including fair lending oversight requirements for the Enterprises and the FHLBs, requirements to maintain the Equitable Housing Finance Plans, and existing requirements to collect, maintain, and report data on language preference, homeownership education, and housing counseling for applicants and borrowers through use of the Supplemental Consumer Information Form. The proposal would also expand some areas of fair lending compliance and oversight of the equitable housing finance plans.
Why it matters: Notably, the proposed rule would also require the regulated entities to comply with Section 5 of the Federal Trade Commission Act, which prohibits unfair or deceptive acts or practices (UDAP). This could expand FHFA's oversight reach as it pertains to certain issues such as the Enterprises' pricing framework or new products and activities, which have not traditionally been subject to this regulation. MBA is also evaluating the rule to determine whether the rule as proposed would permit FHFA to reach through the GSEs to regulate sellers or servicers.
What's next: MBA will continue to analyze the proposed rule and will connect with members to get feedback. Comments are due 60 days after publication in the Federal Register.
For more information, please contact Sasha Hewlett at (202) 557-2805 or Brendan Kelleher at (202) 557-2779.
[VIDEO] mPower Moments: On the Importance of Mentorship with MBA's Amber Lawrence
In this mPower Moments episode, mPower Founder Marcia M. Davies sits down with Amber Lawrence, MBA's Associate Vice President of Diversity, Equity, and Inclusion. During this inspiring chat, Lawrence discusses her journey and how mentors have helped shape her career at MBA. Lawrence also discusses the various DEI resources offered by MBA, including the Developing Leaders Mentoring Program, which is designed to help real estate professionals network with other professionals as well as identify new opportunities within the industry.
What's next: To watch more mPower Moments, click here.
For more information, please contact Marcia Davies at (202) 557-2707.
Upcoming MBA Education Webinars on Critical Industry Issues
MBA Education continues to deliver timely programming that covers the spectrum of challenges, obstacles and solutions pertaining to our industry. Below, please see a list of upcoming webinars – which are complimentary to MBA members:
ROI Guide to Risk & QC Technology – April 25
LIBOR and the Impact on Legacy ARMs – April 25
Timeline and Updates for FHFA Credit Scoring Changes – May 1
MSR Transfers: Balancing Risk, Customer Experience and Efficiency – May 11
Explore Build-to-Rent Advantages, Trends & Opportunities – May 18
What Trends will Shape the Lending Space in the Second Half of 2023 – June 1
MBA members can register for any of the above events and view recent webinar recordings. For more information, please contact David Upbin at (202) 557-2931.