The Sky Isn't Falling for Small-Cap Commercial Real Estate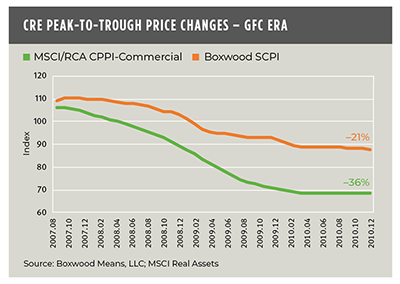 Small-cap commercial real estate appears to be in better shape than the larger CRE market, reported Boxwood Means LLC, Stamford, Conn.
Boxwood Means Principal and Co-Founder Randy Fuchs noted news of a looming catastrophe for commercial real estate has recently circulated among the industry press. "[But] while there is plenty of evidence that interest rate hikes have pinched CRE deal activity and shaken asset prices, thereby elevating risks of some maturity defaults, reports of an impending cataclysm appear to be overdone, especially when it comes to the outlook for small-cap CRE," he said.
Fuchs noted a recent Morgan Stanley research note reflects growing anxiety over a commercial real estate crisis. The report projected a 40% drop from peak valuations because commercial real estate owners, already facing headwinds from a shift to hybrid/remote work, need to refinance more than half their mortgage debt in the next two years. "Similarly, in a separate report KBW said it expects CRE peak-to-trough declines of as much as 30% when higher cap rates and rent changes are considered," Fuchs said.
Fuchs said large-cap commercial real estate prices plummeted 36% peak-to-trough during the Great Recession era while small-cap prices fell by only 21%. "This sizable performance gap is noteworthy and is especially relevant to lenders and investors in the small-cap CRE arena where a reliable and appropriate historical yardstick with which to estimate downside risk in today's fragile environment tends to be wanting," he said.
This small-cap commercial real estate price performance suggests that small commercial/multifamily property markets are relatively more resilient than the institutional CRE domain, Fuchs said, noting this posture derives support from small-cap CRE occupier trends which proved to be on relatively firmer ground through December of last year, exemplified by sector vacancy rates that still hovered near historic low levels.
"I can appreciate that these differing price trends and reports may provoke more dissension than agreement among readers when it comes to the outlook for CRE," Fuchs said. "Clearly, there are headwinds ahead. But my reading of the market data suggests that, however counterintuitive, there is less downside–and more manageable–risk to collateral values for small-cap properties generally going forward than among their larger counterparts."