New Listings of Home for Sale Down 25% from Year Ago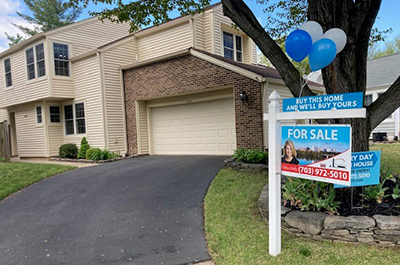 Redfin, Seattle, reported new listings of U.S. homes for sale dropped 25% from a year earlier during the four weeks ending April 9, continuing an eight-month streak of double-digit declines.
The report noted this marked the biggest drop since the start of the pandemic, but with a caveat: Easter fell a week earlier this year than last year, making the new listings decline larger than it would have been if Easter had fallen during last year's comparison period.
Redfin Chief Economist Daryl Fairweather said homeowners are reluctant to sell because they don't want to give up their low mortgage rate and it's hard to find another home to buy. Although rates are down from their November peak, the report week's average was 6.27%; 85% of homeowners have a rate far below 6%. The bright side for homeowners who are listing now is that desirable, well-priced homes are being snapped up in bidding wars in markets where demand outpaces supply.
New listings fell from a year earlier in all 50 of the most populous U.S. metros, with the biggest declines in California. They dropped most in Sacramento and Oakland (-47% year over year apiece), San Francisco (-43.2%), San Jose (-42.9%) and San Diego (-41.4%). The scarcity of homes hitting the market, along with elevated mortgage rates, is holding back sales. Pending home sales dropped more than 30% in each of those metros, more than the 19% nationwide decline.
While pending sales are down, early-stage homebuying demand is ticking up, with mortgage-purchase applications up 8% from a week earlier, seasonally adjusted.
Angela Langone, a Redfin agent in San Jose, said there aren't enough listings to go around, with multiple offers on many homes. Both new listings and pending sales are down more than 40% from a year ago in San Jose.
"Many buyers here aren't held back by high mortgage rates; it's the lack of inventory that's really getting in their way," Langone said. "I have several clients who are serious about buying a home and they're actively looking, but they can't find anything right now and they're waiting for more homes to trickle onto the market."
"The Fed has made some progress cooling inflation with rate hikes but there's still work to be done," Fairweather said. "Even if the Fed chooses not to hike interest rates next month, which would likely bring down mortgage rates, the limited supply of homes for sale would remain a major obstacle for would-be buyers. Rates dipping below 6% would probably pique the interest of more buyers, but enough homeowners have rates in the 3% or 4% range that we're unlikely to see a big uptick in new listings."
Redfin reported the median U.S. home-sale price fell 2.3% year over year to $364,000, the biggest decline in more than a decade.