KBRA: Lodging Loan Performance Clouded by Upper-Upscale Chains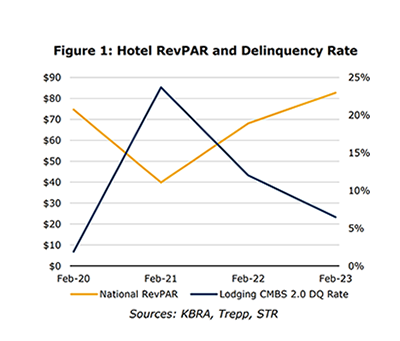 U.S. hotels have performed well overall since the pandemic, but upscale properties report higher commercial mortgage-backed securities delinquencies than more modest hotels, reported KBRA, New York.
The hotel sector's revenue per available room through February was 107% greater than the same period two years ago due to significantly higher average daily rates and occupancy, KBRA said in Lodging Loan Performance Clouded by Upper Upscale Chains.
"But there is a meaningful diversion in the delinquency figures by chain scale," the report noted. It said the upper-upscale category had the highest delinquency rate at 8% and the highest delinquency amount at $806 million. In fact, without upper-upscale properties, the lodging sector delinquency rate would be 53 basis points lower than its overall 6.5% average.
Among larger balance upper-upscale chains, Sheraton had the highest delinquency rate at 21.7%, with 16 of the 22 chains posting delinquency rates in the double digits, the report said. The midscale chain had the lowest delinquency rate of all hotel segments at 3.1% as well as the lowest delinquency balance ($22.6 million).
Just three metros, New York, Houston and Chicago, accounted for nearly half of the delinquent balance, totaling $1.2 billion, KBRA said.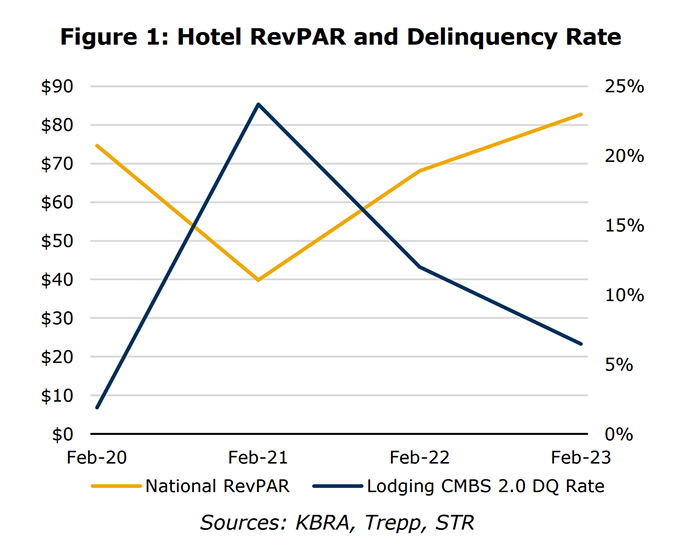 "Delinquency performance has effectively been the inverse of property performance," KBRA said. For 2023 year-to-date, RevPAR closed at $82.71, notably higher than the $74.61 seen in pre-pandemic February 2020. This contributed to February's relatively low delinquency rate. "While this remains higher than the pre-pandemic February 2020 delinquency rate, the industry has come a long way after contending with COVID-related demand declines," the report noted.
KBRA said the hotel industry also benefited from a new breed of traveler since the pandemic due to increased remote working. The "bleisure traveler" takes advantage of remote work policies by extending their business trips to include leisure. "While it is uncertain how long this will continue since many companies are scaling back on remote work, this development appears to be benefiting the industry," KBRA said.