Zillow: Rents Climb Modestly in March, Continuing Their Soft Landing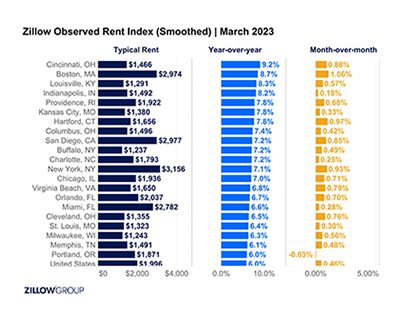 (Courtesy Zillow, Seattle.)
Apartment asking rents climbed 0.5%, or $9, from February to March, reported Zillow, Seattle.
The Zillow Observed Rent Index report said typical asking rents nationally now stand at $1,996, 6.0% higher than one year ago and only 0.1% below the peak of $1,997 observed in September 2022. That annual growth rate is now down about 11 percentage points from the peak growth rate of 17.0%, the record-high pace reached in February 2022.
Zillow Economist Jeff Tucker said this modest increase might indicate a "soft landing" for rent growth after recent overheated rent growth.
"Last month we flagged that monthly rent growth had climbed much closer to its pre-pandemic average for February, but still tracked below it; this month showed no further progress in climbing back up to pre-pandemic averages," Tucker said. He noted February's growth was only 13 basis points below the 0.43% averaged at this time of year in the five years between 2016 and 2020, while March's 0.46% growth was 19 basis points below the 0.65% monthly growth averaged in March from 2016 to 2019.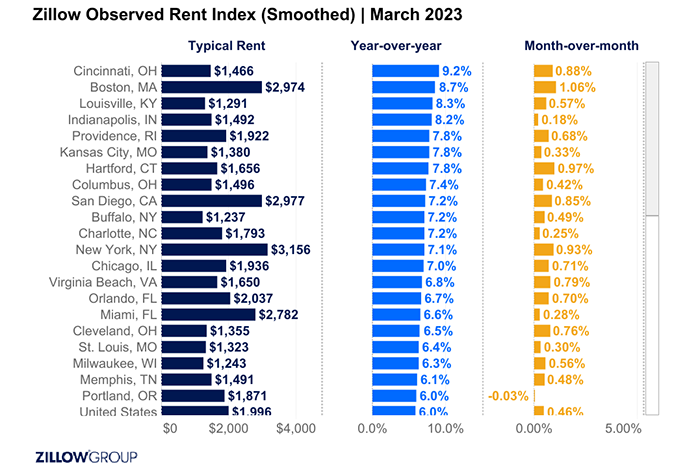 "At the risk of reading too much into one month's data, this suggests that the market is not imminently at risk of reheating into another phase of above-average rent growth," Tucker said.
Tucker said the continued deceleration in annual asking rent growth in March heightens the contrast with official inflation measures of rent growth such as the Consumer Price Index's Rent of Primary Residence component, which grew 8.8% in February. "Previous research suggests a 12-month lag between annual Zillow Observed Rent Index growth and annual CPI Rent growth, giving cause for hope that the year-over-year growth in the latter could begin to decelerate sometime soon," he said. "June looks like the most likely candidate when year-over-year CPI Rent growth might decelerate, since monthly growth in that measure accelerated sharply last June, which will make the baseline comparison easier to fall below this summer."