#MBATech23: Technology Investors Stress Patience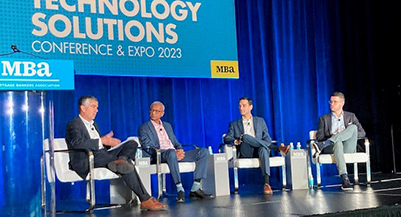 (MBA Chief Economist Mike Fratantoni (l) with (l-r) Bose George, Micah Jindal and Ryan Tomasello at #MBATech23.)
SAN JOSE, Calif.—The mortgage industry wants innovation; tech innovation requires capital. Wall Street investors have unique perspectives on the mortgage industry—and the technology that should support it.
"A lot of technology has been invested in the mortgage industry over the past several years, but we haven't seen the return on investment yet," said Micah Jindal, Managing Director and Senior Partner with Boston Consulting Group, Los Angeles, here at the Mortgage Bankers Association's Technology Solutions Conference & Expo.
"A lot of this technology was built during a period where volumes were at a level that we might never see again." said Ryan Tomasello, Managing Director with Keefe, Bruyette & Woods, New York.
Tomasello said the current investor appetite is going to drive "fire drills" for existing systems. "It's going to be initially a tough go for technology vendors," he said. "But over the past 18 months we've seen a shift toward early-stage models that will ultimately benefit over a longer period; near-term, most companies are in a triage mode trying to stay afloat."
"Over time, we look to see how companies are differentiating themselves" said Bose George, Managing Director with Keefe, Bruyette & Woods, New York. "We look, for example, to Rocket Mortgage, which recently introduced a credit card. This is going to drive customers to their products."
The proposed ICE Technology/Black Knight merger—currently in the air because of legal and anti-competitive concerns—is an effort to provide a single-point solution to the digital mortgage process, Tomasello said. "Ultimately this is an idea that is going to gain traction. The Black Knight platform is a key component of what's missing in the ICE tech stack."
And it's attracting a lot of industry interest. "We're seeing other tech vendors and competitors eagerly seeing how this is going to resolve," Tomasello said. "Scale will be key, and having a multifaceted platform solution will be a key driver of mortgage technology over the next few years."
"When you look at where we are from five years ago, it's amazing how many loan origination systems are out there right now," Jindal said. "I expect that lenders and servicers will want to see other options out there."
Jindal said he expects lead generation technology to grow substantially. "It's becoming proven as a cost-cutting measure and can increase volume," he said. "We're seeing some lead generation companies anticipating as much as 30 percent growth this year as more lenders see the benefits."