MBA NewsLink 2023 Tech All-Star: Rob Chrane of Down Payment Resource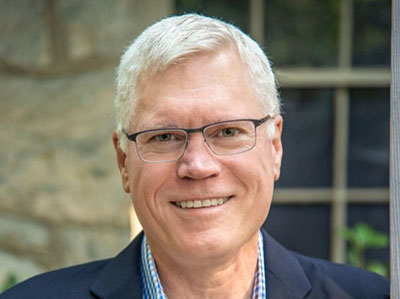 Laura Lang
Qualifying buyers is getting tough these days, with many struggling to save for a down payment—not to mention having cash reserves on hand. It's a topic heard around water coolers and over cocktails – those so-called "barbershop (or beauty shop) settings," where people hang up for a while and catch up on neighborhood news. And that's right where Rob Chrane, founder and CEO of Down Payment Resource, and an MBA NewsLink 2023 Tech All-Star Award recipient, wants down payment assistance to be talked about.
Chrane has spent 15 years (half of his career) developing technology that can be used by anybody online for free to search 2,100+ down payment assistance programs for extra cash to get into their home. That should help lenders qualify more buyers (making them an even more indispensable resource), and more buyers move forward into homeownership. As an added benefit, access to these programs could help narrow the minority homeownership gap.
Assistance is typically structured as a forgivable grant or loan. "It's like getting free money," Chrane says. The programs are offered by nonprofits and government agencies, including HUD and local and state housing authorities. Borrowers are often required to take homeowner education courses to qualify.
DPR's offerings are gaining traction on many fronts, including with affordable housing advocates. "There is no other single place to turn for this important information, and Rob's dedication to creating this platform and updating the information regularly is meaningful, commendable, and certainly worthy of recognition as an MBA Tech All-Star," writes supporter Meg Burns, Executive Vice President of the Housing Policy Council. "DPR's compilation and maintenance of the wide variety of down payment data in a standardized format empowers homebuyers and industry participants to identify and pursue funds that make the dream of homeownership possible for many traditionally underserved families."
Getting the Word Out
Chrane works with Multiple Listing Services, real estate associations, lenders, companies of all sizes and more than 1,300 Housing Finance Agencies and nonprofits across the country to maintain and disseminate current DPA information. He also works to dispel the myths surrounding these programs, such as they're only open to low-income borrowers, first-time homebuyers, or for undesirable properties. In fact, nearly 40% of DPA programs in DPR's database are open to repeat buyers, and there's also specialty programs for targeted buyer groups like first-generation buyers, minorities, indigenous people, non-whites, military Veterans, educators and more.
Chrane must also convince some potential buyers that these programs are real and legitimate. "We find there's a stigma, especially in underserved communities where people had bad experiences with no-doc and subprime loans, to think these programs are too good to be true," he says.
Chrane spreads information about DPAs through industry and homebuyer webinars and seminars, and partners with major MLSs and more recently home-listing sites such as Zillow, Redfin and Realtor.com. These partners can use an API developed by Chrane's company to highlight DPA eligibility in listings alongside other property insights, such as tax records, walkability scores and school performance indices.
"These partnerships are helping us close that 'last mile,' which is always the most expensive and costly whether you're delivering packages or installing cable," Chrane says. He likens the challenge to the boots-on-the-ground messaging used by Get Out the Vote. "There's no substitute for having someone with 'boots on the ground' share your message. Sometimes that's a site like Zillow, sometimes it's a real estate agent, and sometimes it's a lender."
It's an approach that's proving effective. In 2022 alone, more than one million unique home shoppers searched for their DPA eligibility on Zillow.
Real Estate to Tech Exec
Chrane has been involved in real estate and mortgage banking for his entire 30-year career, with roles in sales production, sales leadership and business development. "There's something about home, and homes, and homeownership that's always been very appealing to me," he says.
When he left HomeBanc Mortgage Corp. in 2008 to found DPR, people were just starting to use the Internet to review listed properties and find real estate agents and lenders, much the way they do today. Chrane's concept with DPR was to create a software application buyers could use to input information about themselves and their property to be matched with assistance programs. He envisioned a website where they could access the tool directly, and that it would be integrated with partners as part of their web offerings.
He started calling local Atlanta housing agencies for details about their DPA programs. Some were skeptical, questioning his motives and how the information might be used. But Chrane kept at it, and eventually was joined by Melinda Harris (who is still with DPR) to help with contacts. Slowly they filled their database with current information locally and then on programs nationwide.
Obviously, location is an important data element for these searches because many down payment assistance programs have very specific boundaries available to buyers within a city or a county jurisdiction, or even down to the census tract level. But sometimes other data elements matter too such as income or occupation. For MLS listings, he created an option that could show properties available for DPA.
The resource launched in 2010. Since then, nearly 6.3 million unique consumers and real estate professionals have used it to search for homebuyer assistance programs. DPR is also used by five of the top 10 (by volume) retail mortgage lenders to provide borrowers with information about the programs.
Benefits for Lenders
For lenders specifically, DPA presents a large and untapped opportunity to grow their pipeline by developing a web and social media presence that showcases their DPA expertise, says Chrane. "DPA education should become a part of every originator's training for new employees, with state-specific training becoming a staple of continuing education offerings," he says.
To make it easier for lenders and other partners to educate borrowers about DPA programs, DPR has developed customizable tools to market and manage DPA programs. These include:
Down Payment Connect, a customizable lead-generation landing page that engages visitors to search for homebuyer assistance programs.
Loan Officer Portal, a tool that enables LOs to compare company approved programs and automatically match borrowers and the home they want to buy with programs they are eligible for.
Underwriter Portal, an underwriting tool that replaces spreadsheets with always-up-to-date guidelines and requirements and lender overlays.
DPA Directory, a tool that helps product managers and secondary marketing departments locate, evaluate, onboard and manage programs, as well as automatically match homebuyer assistance programs with eligible properties.
There's clearly a need for this type of assistance. DPR analyzed tens of thousands of declined purchase mortgage applications and found that roughly 33% were declined for reasons addressable with DPA and would have been eligible for assistance through at least one program.
Having access to information on thousands of DPA programs is a huge timesaver for front-line originators, processors and underwriters who need to know which programs are currently active and funded, which are approved by their organization and its investors, and what conditions properties and borrowers must meet to be eligible, Chrane says. Lender-customers surveyed by DPR reported saving an average of 11 hours of research that would otherwise be required to launch a new affordability program, such as identifying programs in a market and analyzing programs for approval.
Cherry Creek Mortgage (recently acquired by Guild Mortgage), which has originated more than $78 billion in loans since launching in 1987, has tripled its affordability program offerings without increasing staff support. Mountain West Financial, based in Redlands, Calif., features DPA on its homepage and has earned more than 55,000 visits to its portal, with nearly 8% of those visits being converted to leads and select retail branches experiencing conversion as high as 47%.
There are other benefits too. Fannie Mae and Freddie Mac have outlined the need to close the homeownership gap for minorities as top priority in their Equitable Housing Finance Plan, part of the GSEs' evolving strategy to help minority buyers achieve affordable, sustainable housing. DPA is a tool that can help close that gap.
However, notes Chrane, there are still a lot of people primed for successful homeownership who don't know about this type of assistance yet. "We want to make it so ubiquitous that when you're browsing properties or looking for a lender, this comes up on your radar too. That means being on Zillow, being on lenders' websites, and partnering with those in the affordable lending space."
Widespread Kudos
While building a technology firm, Chrane has buttressed his platform with meaningful industry participation. He serves on the steering committee of the MBA's CONVERGENCE Memphis and CONVERGENCE Columbus initiatives, which promote more sustainable, affordable homes for purchase and rental for underserved people and communities, especially minorities and low-to-moderate-income Americans.
He has also donated pro bono access to DPR resources to MBA, the National Fair Housing Alliance, 3by30 Black Homeownership Collaborative, Compass Working Capital and Next Step Network.
In addition to MBA's recent Tech All Star recognition, Chrane has been recognized as a HousingWire Vanguard and DPR has been named one of the most innovative technology companies by HousingWire TECH100 and by Inman News for "Most Innovative New Technology."
That's because he's making something widely available that helps everyone in the food chain – buyers, agents and lenders.
He does what he does because he believes it can help lenders make a real difference in the lives of homebuyers and set them on the course to successful homeownership. "You can change the trajectory of your clients, their financial future, and feel good about it," he says. "You can put DPA information and options in front of them at a crucial time when they are deciding whether or not they can move forward."
"I worked in this industry for a long time, so I know DPA programs can seem intimidating, and, yes, they change all the time," says Chrane, "but we've done the work to make it easy for lenders to get on board and develop DPA expertise in-house."
"Without leaving your website or app, your buyers can find information about DPA programs and start their applications. Or they can do an Internet search for DPA-eligible listings and find your business. It gives us that last-mile 'barbershop' connection with people, and that's where we want to be."