MBA Home For All Pledge Partner: MGIC
(One in a series of profiles of MBA member companies that have signed the MBA Home For All Pledge, an initiative to promote inclusion in housing.)

"For the past 65 years MGIC has been helping American families achieve homeownership sooner by making affordable down-payment mortgages a reality. While we're proud of our legacy, we recognize that more needs to be done to address today's housing challenges and achieve racial equity in homeownership. MGIC is committed to working with lenders, investors, real estate agents, housing advocates, homebuyer education and counseling organizations, and other stakeholders in order to promote long-term, sustainable, and wealth-creative homeownership."
–Sal Miosi, MGIC President and Chief Operating Officer
MBA NEWSLINK: Why did MGIC sign the MBA Home for All Pledge?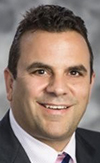 SAL MIOSI: "MGIC seeks to advance the core values of diversity, equity and inclusion by collaborating with stakeholders to increase the number of families prepared and ready to own a home, expand access to sustainable homeownership, and close the racial/ethnic gaps in homeownership."
NEWSLINK: What is MGIC doing to implement key provisions of the Home for All Pledge?
MIOSI: "MGIC is lending our expertise to multiple affordable housing initiatives including those focused on helping support efforts to increase minority homeownership. We are working with the Milwaukee Community Development Alliance (CDA), a cross-sector collaboration between private, public, academic and non-profit organizations, to develop and execute a housing plan for our hometown of Milwaukee, Wisconsin. We're also sponsoring research focused on identifying factors that impact the financial benefits of homeownership in Milwaukee's lower-income and majority-minority neighborhoods. More broadly, we're pursuing partnership and product solutions that prudently address barriers to homeownership for underserved populations in the areas of credit, collateral, cash-to-close and cash-after-close. This includes working with lenders who are developing written plans for Special Purpose Credit Programs (SPCPs) under the Equal Credit Opportunity Act (ECOA) and collaborating with Government Sponsored Entities (GSEs) to support their Duty to Serve and Equitable Housing Finance plans."
***
About the MBA Home For All Pledge
MBA recognizes and values the opportunities for working together as an industry to promote inclusion in housing. We believe that these opportunities can, and need to be, significantly expanded.
The Home for All Pledge represents our industry's long-term commitment on a sustained and holistic approach to address racial inequities in housing. By signing, you are agreeing to be a champion for change in addressing the barriers to sustainable housing for persons and communities of color.
Through advocacy, partnerships, and connections within the industry, you pledge to support MBA's efforts to ensure fair, equitable and responsible lending and affordable rental housing for minorities.
Pillars of the pledge include:
–Promote and support public policies and industry practices that advance minority homeownership and affordable rental housing;
–Support market-based solutions through MBA's place-based CONVERGENCE programs;
–Champion Diversity, Equity and Inclusion (DEI) in our workplaces and our industry; and
–Support inclusion in single-family and/or multifamily housing with similar actions that are not listed under the above three commitments
For more information about the MBA Home For All Pledge, visit https://www.mba.org/who-we-are/the-home-for-all-pledge.