House Prices Fall in July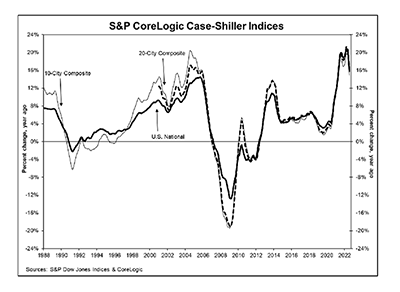 Two home price indices released Tuesday showed home prices fell nationwide in July but remain above year-ago figures.
The Federal Housing Finance Agency House Price Index fell 0.6 Percent in July.
"U.S. house price index posted its first month-over-month decrease in July since May 2020 when the U.S. economy experienced lockdowns as a result of COVID-19," said Will Doerner, Supervisory Economist in FHFA's Division of Research and Statistics. He called the decline "widespread" as eight of the nine census divisions saw a decrease.
But FHFA reported house prices rose 13.9 percent from July 2021 to July 2022. "The 12-month change in house prices remains at historically high rates, but the rate of growth continues to moderate across all census divisions," Doerner said.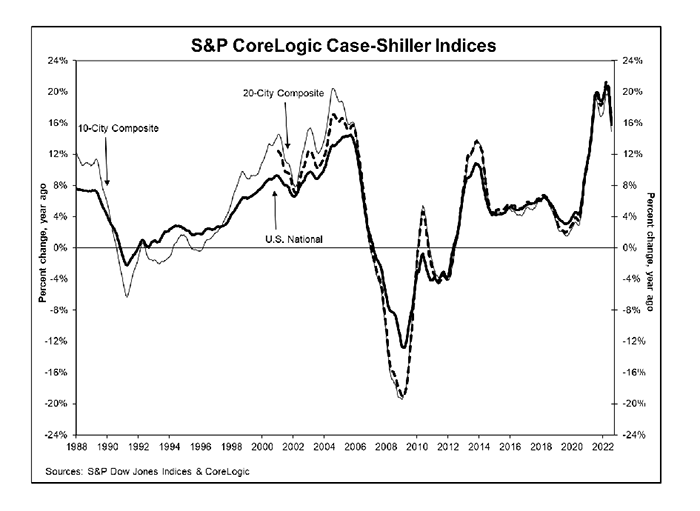 S&P Dow Jones Indices also released its latest results for the S&P CoreLogic Case-Shiller Indices yesterday. It found home price gains decelerated across the United States. The national Index posted a month-over-month decrease after seasonal adjustment of -0.2%.
"Although U.S. housing prices remain substantially above their year-ago levels, July's report reflects a forceful deceleration," said Craig J. Lazzara, Managing Director at S&P DJI.
Lazzara said the theme of "strong but decelerating prices" was reflected across all 20 cities examined. July's year-over-year price change was positive for each of the 20 cities with a 15.0% median gain, but July's gain was less than June's across the board. "As the Federal Reserve continues to move interest rates upward, mortgage financing has become more expensive, a process that continues to this day," Lazzara said. "Given the prospects for a more challenging macroeconomic environment, home prices may well continue to decelerate."