MBA Education Path to Diversity Scholar Profile: Kim King, AMP
(One in a continuing series of profiles of participants in the MBA Education Path to Diversity (P2D) Scholarship Program, which enables employees from diverse backgrounds to advance their professional growth and career development.)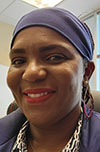 Kim King, AMP, is Director of Mortgage Operations for Bryant Bank, Tuscaloosa, Ala.
"I am fortunate to be in this industry 30-plus years, since my senior year of high school. I began working as an Assistant on November 14, 1991 for Marbury Mortgage Inc., a small wholesale mortgage company in Birmingham, AL. I was able to work in high school because of an on-the-job training program where my high school partnered with local businesses to help high school students find their career path and acquire on-the-job training skills. I worked for this mortgage company while I attended college, at the University of Alabama at Birmingham and graduated with a Finance/ Real Estate degree in 1996. Even after college, I worked another nine years until the company closed in 2005.
Thankfully, at a very early age, I was able to learn invaluable skills working as a Loan Processor, Loan Officer and an Assistant. As the mortgage industry continued to evolve, I worked for other companies as a Mortgage Specialist and a Closing Supervisor, which truly began my management path in this industry.
I am the mother of two young men, ages 22 and 20. I am a true sports mom so in my spare time I enjoy traveling to see my youngest son play college football and watching sports on television. I also enjoy church activities, exercising, shopping, and spending time with loved ones.
NEWSLINK: How did you learn about the MBA Path to Diversity Program?
KIM KING, AMP: Ashley Yarabinec, CMB, AMP told me about the Path to Diversity Scholarship. Ashley works for MBA and is the Associate Director with Member Engagement. She explained the scholarship and sent me the link to apply for the scholarship. I am truly grateful to Ashley because I have won this scholarship three times through MBA, which has helped me further my professional education and growth in the industry.
NEWSLINK: What inspired you to become more involved? Did a co-worker/supervisor/mentor encourage your participation?
KING: My Manager, Michelle Robinson, spoke to me about furthering my education through MBA. Michelle knew that I was passionate about furthering my professional education so she allowed me to take courses through MBA starting with the School of Mortgage Banking I. Since then, I have obtained my AMP (Accredited Mortgage Professional) designation and my CRU Level I (Certified Residential Underwriter) achievement. I have recently completed the CMB (Certified Mortgage Banker) Prep course through MBA. Next, I will take my written and oral exams. Once I pass both, then I will be a CMB!
NEWSLINK: Did you find the application process to be user-friendly?
KING: Yes, the application process was very user-friendly. I think completing the application and uploading the documentation only requires the time and effort to complete the task. If you want to further your professional education and you meet the qualification requirements, this is an awesome scholarship opportunity offered through MBA!
NEWSLINK: How has the Path to Diversity scholarship benefited you, personally and professionally? What have you been able to bring back to your company as a result of the Path to Diversity program?
KING: I have definitely grown in my self-assurance! I think the MBA courses require endurance, a substantial amount of studying and time-management skills! In addition, by taking these courses, I have built a huge network of many thriving real estate finance individuals. I love the available networking opportunities through MBA!
NEWSLINK: What have you been able to bring back to your company as a result of the Path to Diversity program?
KING: I have learned much more about the mortgage industry in all areas through my MBA studies. One unique thing about the mortgage industry is that it is ever-changing with new programs, requirements, guidelines, etc., so there is always something to learn in this industry even if you have been in the business for decades. I am very proud that our employees at Bryant Bank continue to further their professional education through MBA studies and conferences each year!
NEWSLNK: What would you say to someone considering applying for a Path to Diversity scholarship?
KING: First, I would say, "Believe in yourself!" Next, complete the application and documentation requirements. Be proud that you have put forth the effort to win a scholarship. Even if you do not win the first time, reapply! "The only impossible journey, is the one you never begin" (Tony Robbins).
***
About the MBA Path to Diversity Scholarship Program
The Path to Diversity Scholarship Program recognizes existing industry professionals who are seeking to advance their careers through continuing education. Recipients receive a voucher to cover course registration fees, up to a maximum of $2,000, for popular MBA Education courses and designation programs. This education opportunity enables employees from diverse backgrounds to advance their professional growth and career development.
MBA recognizes that a strong, responsible and sustainable real estate finance industry requires a workforce that is reflective of our society at large.
For more information about the Path to Diversity Scholarship Program, click here.