CBRE Raises Hotel Sector Outlook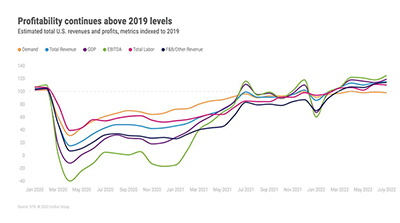 CBRE, Dallas, raised its forecast for hotel performance based on second-quarter gains and its expectation for slightly positive GDP growth next year.
CBRE revised its forecast for second-half 2022 to a 14.7 percent revenue per available room gain year-over-year, up from its previous projection, 13.1 percent year-over-year. The firm said it expects to see a 3.5 percentage point increase in average daily rate growth compared to its previous forecast issued in May, though room demand may fall slightly.
CBRE Head of Hotel Research & Data Analytics Rachael Rothman noted the "brisk" demand recovery seen earlier this year has begun to slow. "We are seeing a pullback in average daily rates in select record-setting markets," she said. "Despite the slowing pace of growth, we expect the continued recovery in travel demand to be driven by incremental group and inbound international travel, followed by a modest uptick in transient business."
Hotels outperformed expectations in the second quarter despite a GDP contraction and the highest inflation in more than 40 years. "Strength in the quarter was the result of continued improvements in group business, inbound international travel and what may have been a peak in leisure travel this cycle," CBRE said in its Hotel Horizons report.
CBRE noted it baseline-scenario forecasts do not contemplate an international war, a pervasive recession or a more acute COVID variant.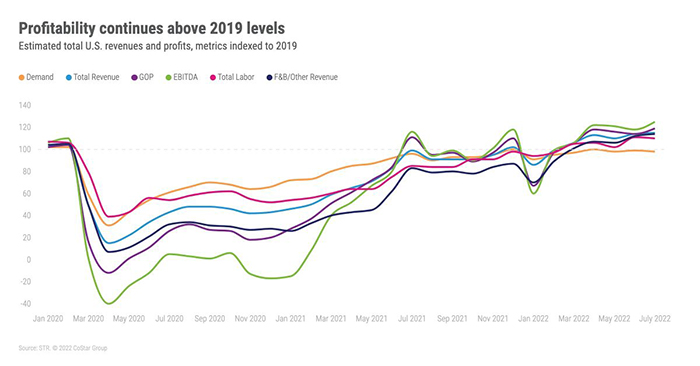 STR, Hendersonville, Tenn., said U.S. hotel profitability outpaced 2019 levels for the fourth consecutive month in July. Hotel gross operating profit per available room equaled $78.30 in July while total RevPAR was $209.66, STR said in its July Profit and Loss data release.
STR Director of Financial Performance Raquel Ortiz said the two metrics decreased slightly from June but were stronger than pre-pandemic July 2019 for both full- and limited-service hotels. "The dip in margins can be attributed to higher expenses associated with more ramped-up operations as well as the general rise in costs around the country," she said. "Rising wages are being somewhat balanced by hotels using more contract labor and reducing benefits costs."
Leisure-heavy markets, including Miami, led the way in both gross operating profit per available room and total RevPAR recovery. But more business-centric markets still have a way to go to see full recovery. San Francisco's gross operating profit was just 55% of July 2019 levels, while Minneapolis' was 77% of the pre-pandemic comparable, Ortiz said.